Easy Chicken Noodle Taco Soup with Campbell's Soup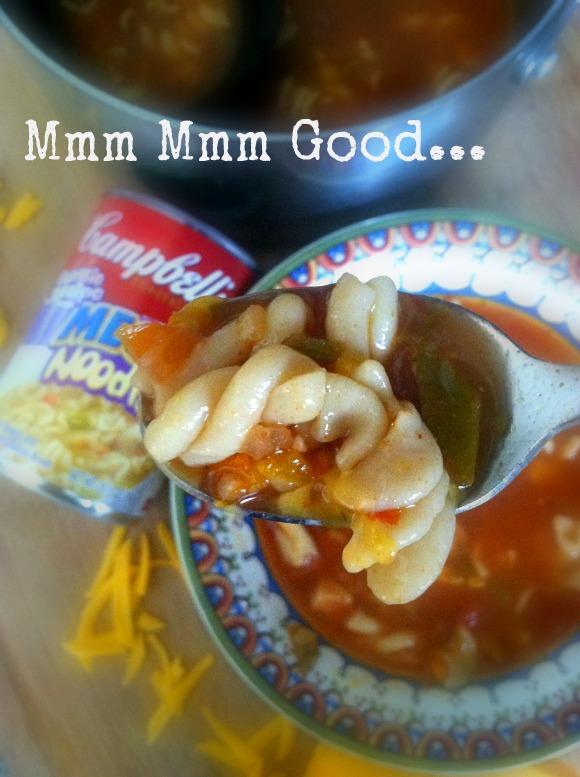 Campbell's Wisest Kid in the Whole World is the ultimate expert on what makes kids happy!  I know my kids are happy when their bellies are full and this Easy Chicken Noodle Taco Soup does the trick!  It's Mmm Mmm good!
Do you have a picky eaters? If so they may have met their match with the help of The Wisest Kid in the Whole World™, Campbell's soup is offering delicious recipes your kids won't be able to refuse!   Find fun, quick meal ideas your kids will love at WisestKid.com.  You can see all of the soup varieties featuring kids' favorite characters like Super Mario and Phineas & Ferb, as well as topping and sandwich ideas for Tomato soup.
Fun Facts:
~For more than 144 years, Campbell Soup Company has been making meals fun and delicious.
~Every can of Campbell's Chicken Noodle soup has 32 feet of noodles just waiting to be slurped;
~Campbell's Tomato soup is a bowl of fun for kids who like to dunk and get creative with toppings!
~The creamy, rich taste of Campbell's Cream of Mushroom gives vegetables a welcomed makeover in kid-approved recipes and casseroles.
My infinitely wise kiddo shared that spicy food = happy kid, so I came up with this Easy Chicken Noodle Taco Soup.  This soup is so easy 5 minutes and you will be clanging your dinner bell!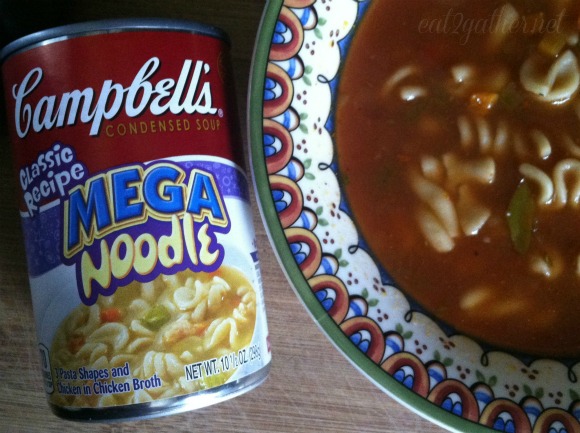 If you have kids you know that their tastes in food are one of life's great mysteries.  Take green beans, for example.  yesterday they were the only vegetable your son would eat, but today, thanks to his new aversion to green foods, he won't go near them.  If this sounds like meal time at your house, you're in luck!
Do you need easy new dinner recipes?  
Well then you might want to consult the Wisest Kid in the Worlds scroll of infinite deliciousness!!  Through their recipe destination Campbell's Kitchen, Campbell's gives you a fresh way to delight your family  with new kid-friendly recipes like Mini Chicken Pot Pies, and fun ways for your kids to eat tomato soup or chicken noodle soup.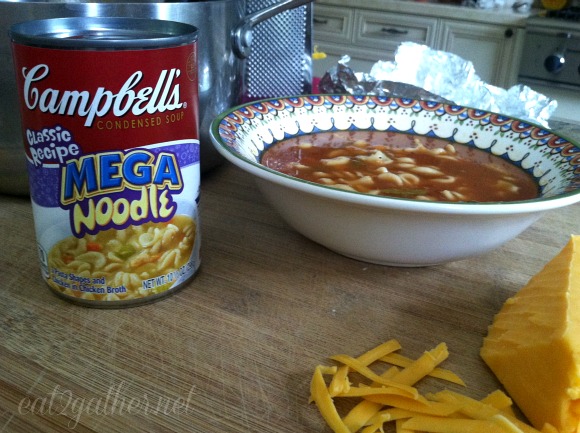 [print_this]
Easy Chicken Noodle Taco Soup
1 cans Campbell's Condensed Mega Noodle  Soup
1/2 cup of your favorite jarred chunky Salsa
1 tablespoon Taco Seasoning
Cheddar Cheese and Sour Cream for topping
Place the first three ingredients in a sauce pan with 1 can of water cook over medium heat, bring soup to a low bowl, and reduce heat to simmer. Allow soup to cook for 3 more minutes, ladle into soup bowls and serve topped with cheddar cheese and sour cream.
[/print_this]
Now I want to know what you would ask the Wisest Kid in the Whole World?