There it is.  Thanks to Julie and my son Luke I settled on a name for the cook through of Ree's new cookbook The Pioneer Woman Cooks Food from my Frontier.  Many of you liked my stretchy pants theme, but as my son so kindly put it….
"Mom you can't use stretchy pants in your title, people are going to think you're a freak, they're not going to get it."
"Dear, dear sweet son, if the people who read my blog know me they will get it, they won't think I'm a freak."
"I dunno mom, I think its weird….I don't get it."
Then like an angel Julie commented on my blog with the suggestion of Cooking through Ree's Frontier.  "It's settled!" I hollered, "I'm using this one."
"Naw……how about Operation Book through Cook through…you've got to use the work Operation in the title."
"I'm not a Navy Seal pulling off a covert cook off of P-dubs cookbook…it's just good clean goofy mom fun."
chirp chirp…….chirp chirp   He left the room.  Freaked out and defeated.  So let the freakyness begin!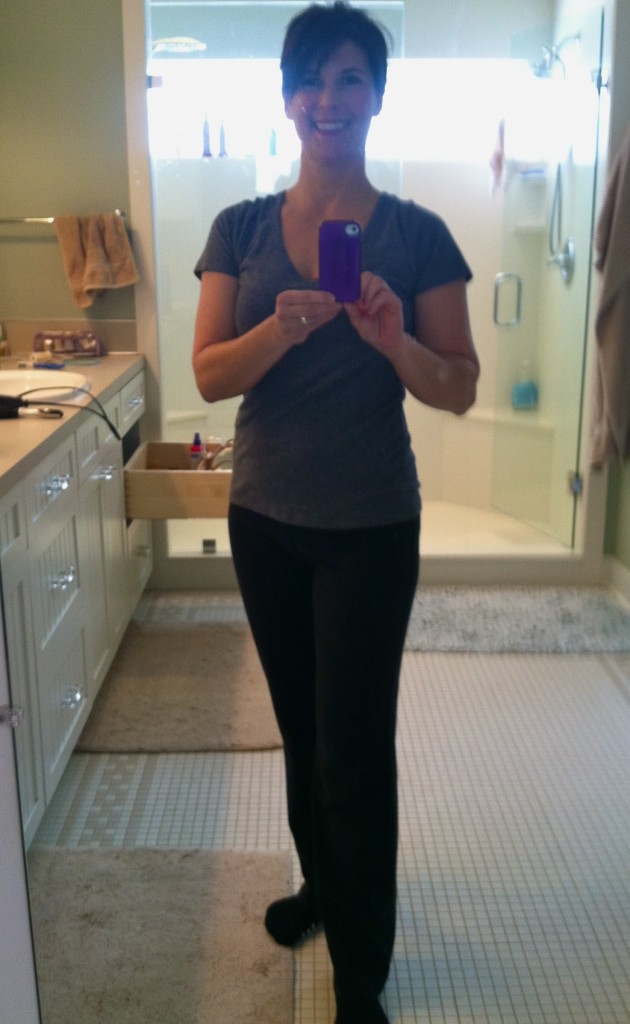 Here I am in my stretchy pants.  If you are wondering drawers are left open all over my home.  Why shut it if you may need something in it…that's my motto.  (Drives my husband nutty.)  See how I'm posing?  That's the slimmest angle I could get.  We'll see how slim of an angle I can get by the end of this…….
So because tomorrow is Fat Tuesday, I'm going to show you the sweets that I have made so far from PW's new cookbook, available everywhere March 13.  I hope I've got the date right on Fat Tuesday…last year I was a bit confused.  Feel free to read about my confusion. Here.  Then if you are done scrubbing your grout read here.  If all the drawers in your house are organized and closed read here.
So here's a look at what I've been up to!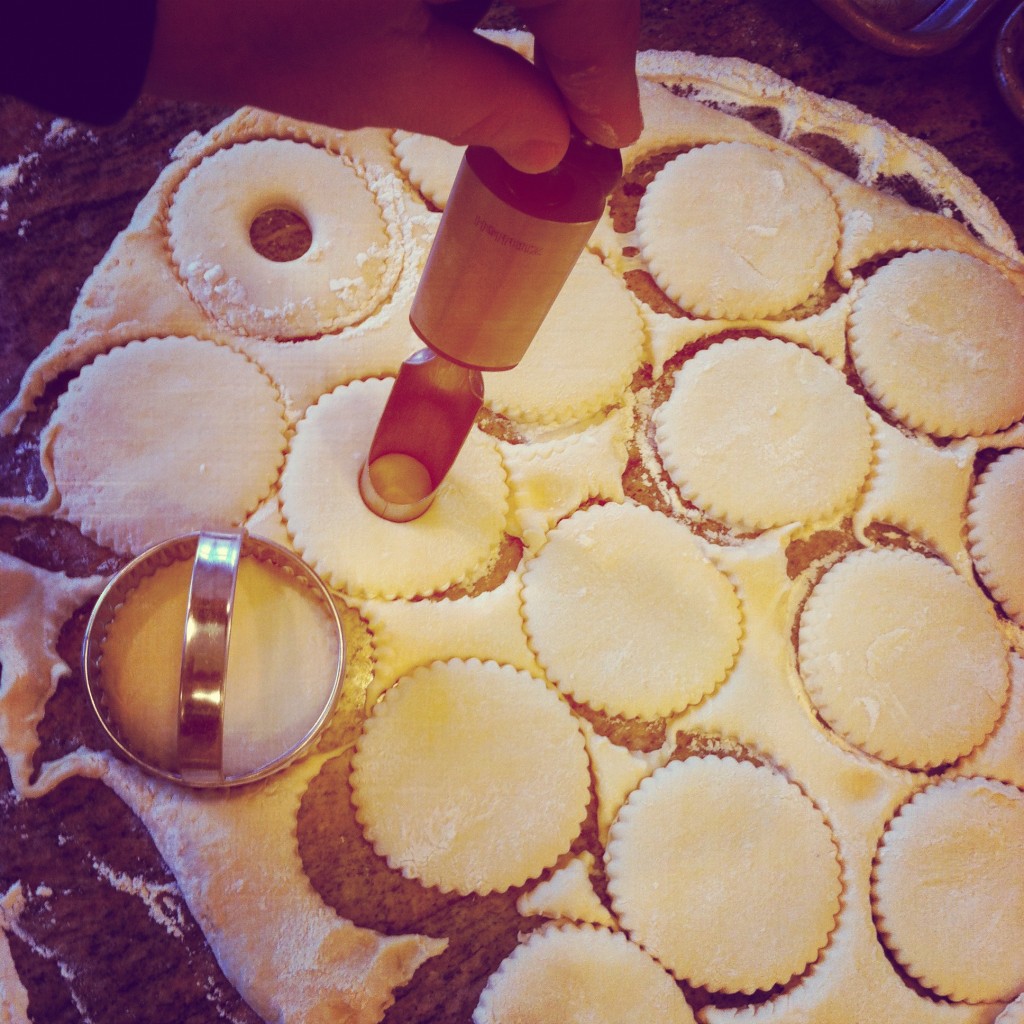 Ree included a Homemade Glazed Doughnuts recipe in this cookbook.  I have tried my hand at making homemade doughnuts a few times.  I prefer making cake doughnuts, these were not cake doughnuts…..this recipe is the make the dough the night before, roll them out the next morning, cut them, let them rise, then fry them.  Sure why not I've got scads of time on my hands I can do this.
I make do with what I have most days.  I do not have a doughnut cutter so I improvised and used a biscuit cutter and a apple corer.  Worked like a charm!

The dough came together extremely quick.  I popped it in the refrigerator and set my alarm clock so I could have doughnuts frying when my kiddos got up.  I treasure my sleeping in days so this was a sacrifice not only to my stretchy pants but also to my beauty sleep!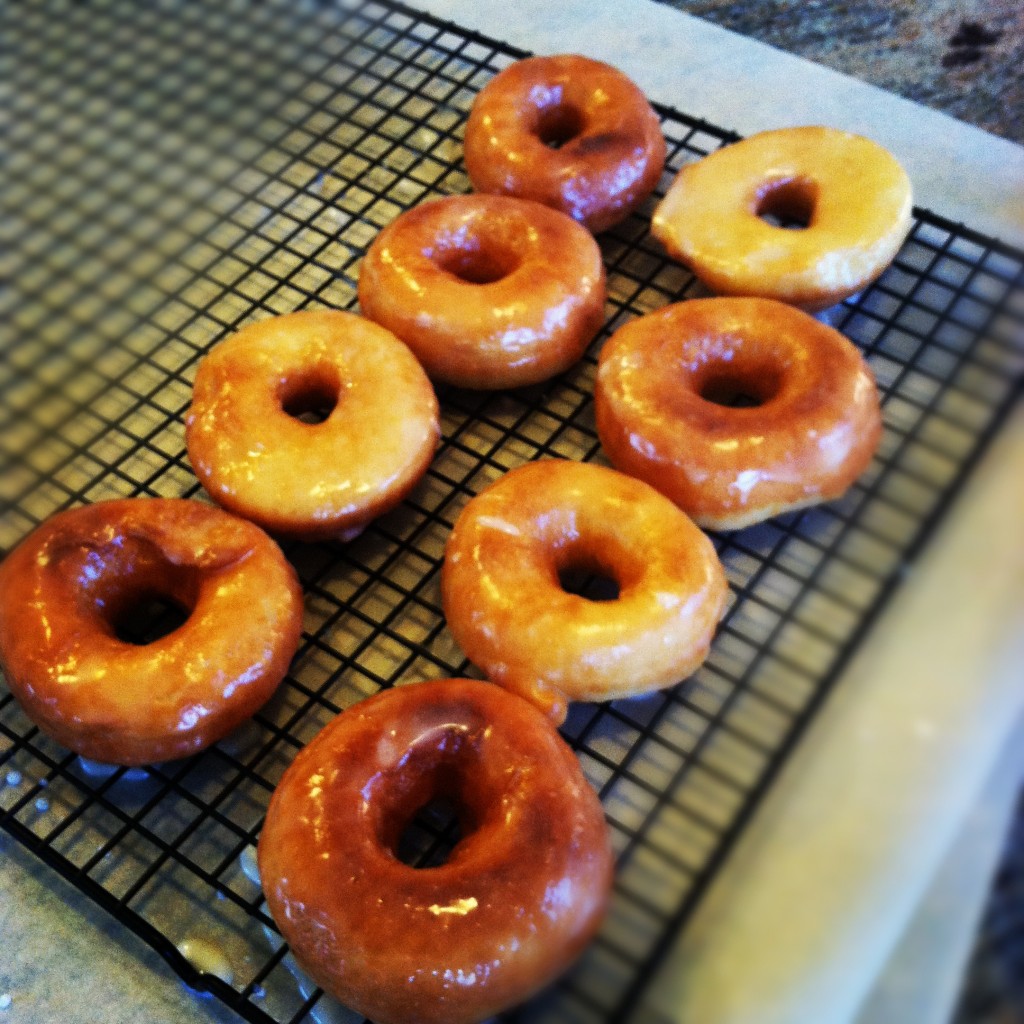 There they are fried, and glazed.  I used my electric frying pan so I could regulate the temperature of the oil.   These were so worth loosing beauty sleep over.  My kids said they were the best I'd ever made, AND they were ALMOST as good as Krispie Kreme!  Dang Ree you stink!  My kids never give me compliments like that.  Krispie Kreme really?!  It's true these were really good.  I did experiment with the glaze by adding in a few drops of Maple Flavoring and a dash of Nutmeg, it was spectacular.  Next time I would experiment even further with glazes like Strawberry, and Chocolate…some really out there flavors.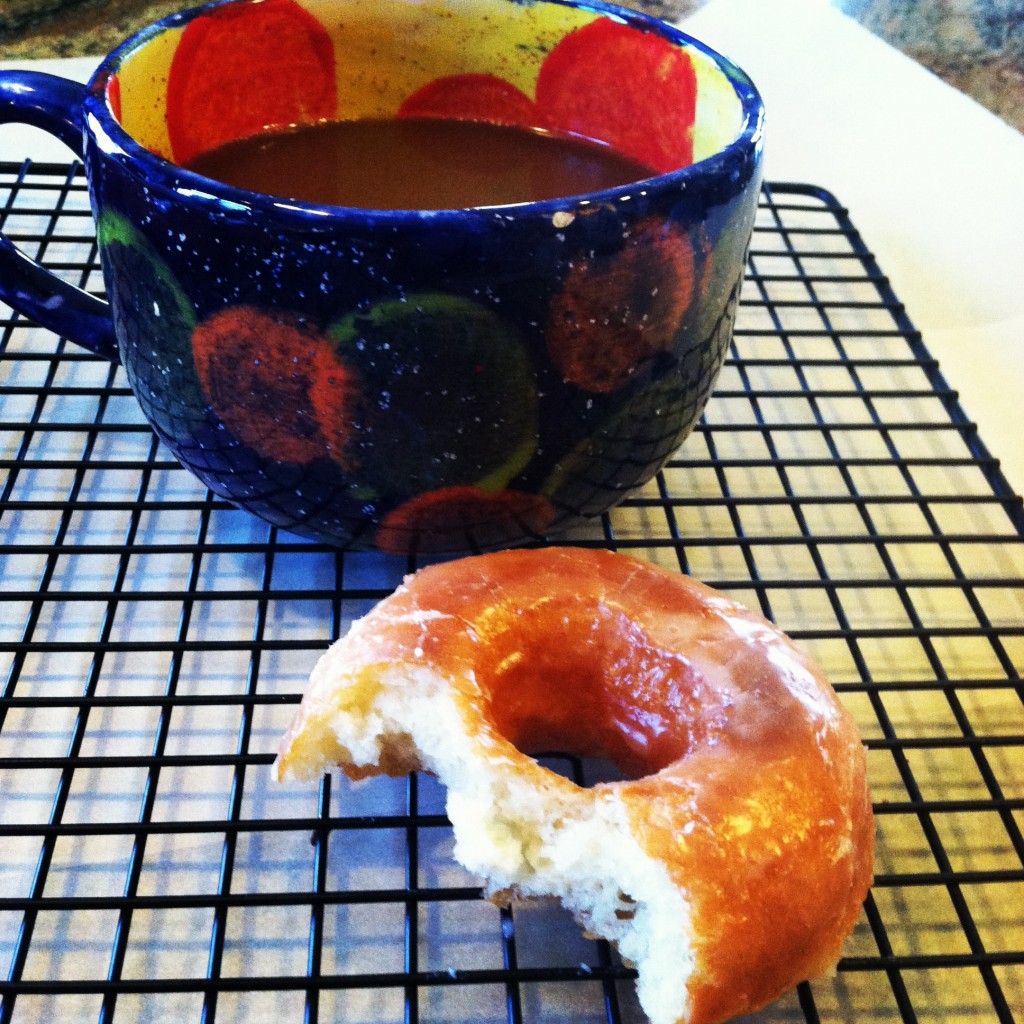 They were so good warm…drool, slurp.   Hold on I'm going to go Saran wrap my keyboard a minute…….  The leftovers where gobbled up the next day, the kids just popped them in the microwave for a few seconds, they said they were nearly as good as fresh.
One more picture….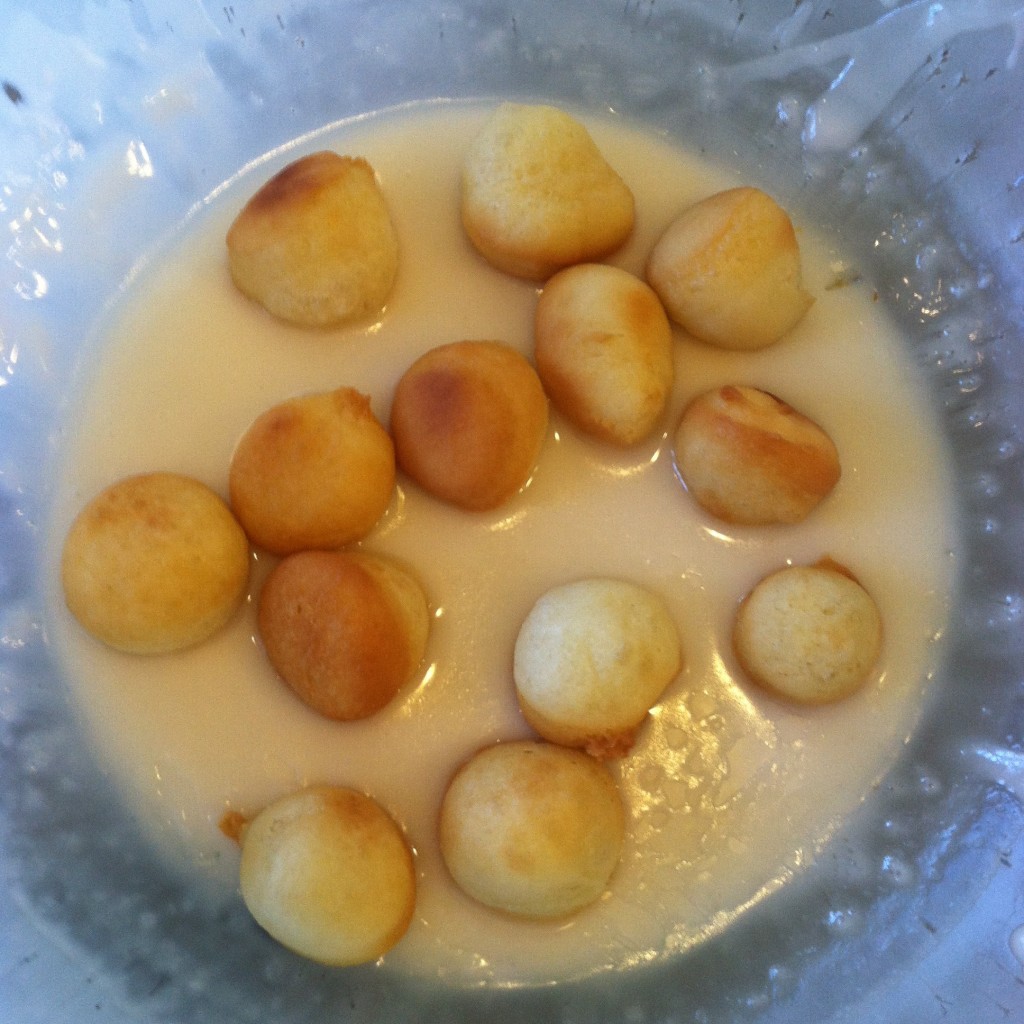 Aren't they cute?  Little doughnut holes having a swim party in the glaze.  I confess I hung my face over the bowl and ate them straight out of the glaze.  OINK!
Next up Lemon Blueberry Pancakes.  If you watch Ree's Foodnetwork show you saw her make these in one of the episodes.  Aren't they purdy?  They are so delicious.  I thought so anyway.  My family didn't care for them.  "I like your Lemon Blueberry Muffins better, I just want plain pancakes(whine)."  Ok not that I'm keeping track or anything…but we are now one for one PW.   I, on the other hand, thought they were scrumptious…and so did hairball.  I left my heavenly stack of half eaten lemony blueberry pancakes at the table, where I was eating in peace and quiet, I left them to throw in another load of blasted laundry.  When I returned hairball a.k.a. Jack had his front paws on the table slurping down my CAKES!  Flippin HAIRBALL!  He spent the rest of the morning in the cold garage thinking about his transgressions.
That's what I get for moving from my usual eating stance at the kitchen island, to the table.  Standing, hovering over my plate, never sitting down to relax and enjoy my food.  This picture was taken, then I decided "hey I should go sit down over there at that tabley thing and take a load off…I deserve it right?"  Apparently not.   The hairball and I gave these a two thumbs/paws up.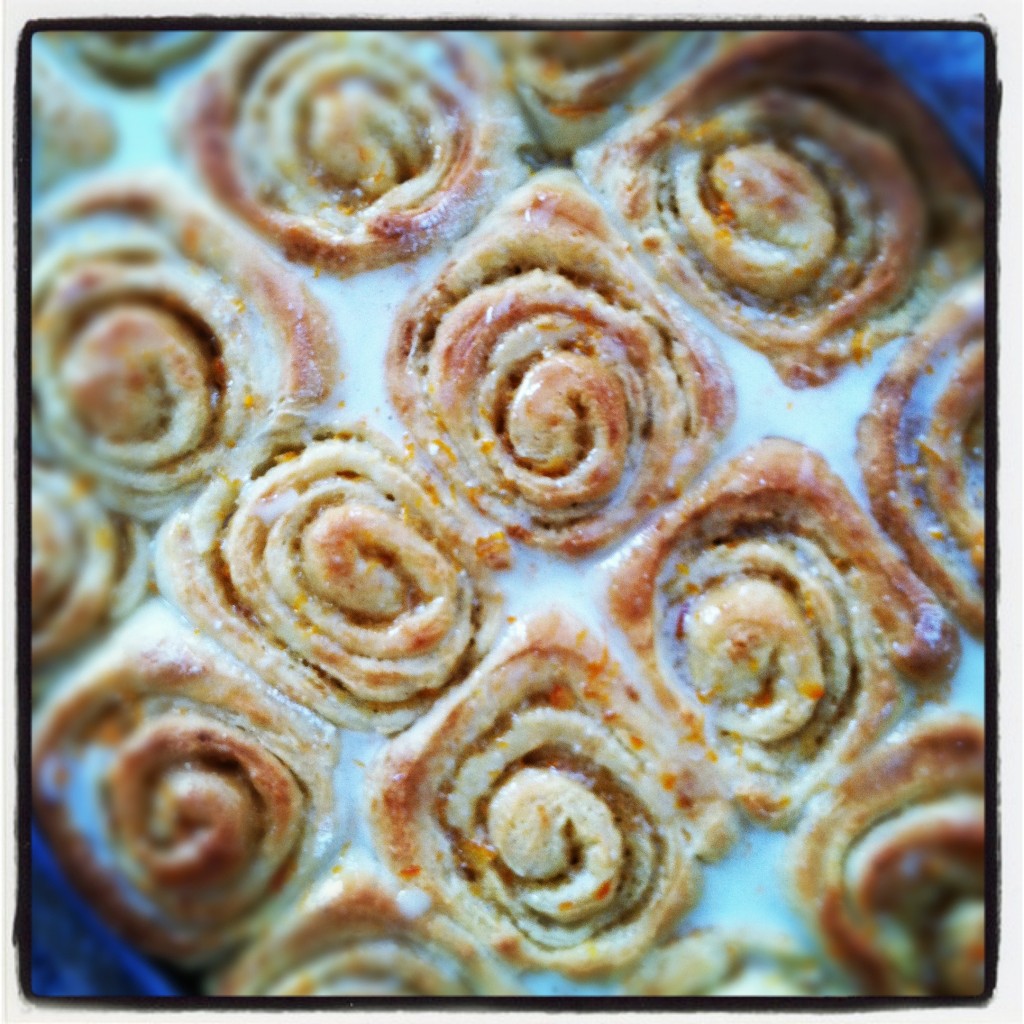 Is that not beautiful?  Orange Sweet Rolls are fantastee-KO!  My oldest son who is a cinnamon roll freak even liked them.  They are made with the same dough as Ree's cinnamon rolls, however instead of cinnamon/butter/sugar filling you slather butter, brown sugar and orange marmalade over the dough and then roll them up, cut, bake, and glaze them with orange zest laced glaze.  In the words of Dora the Explorer "Delicioso..yum..yum…yum!"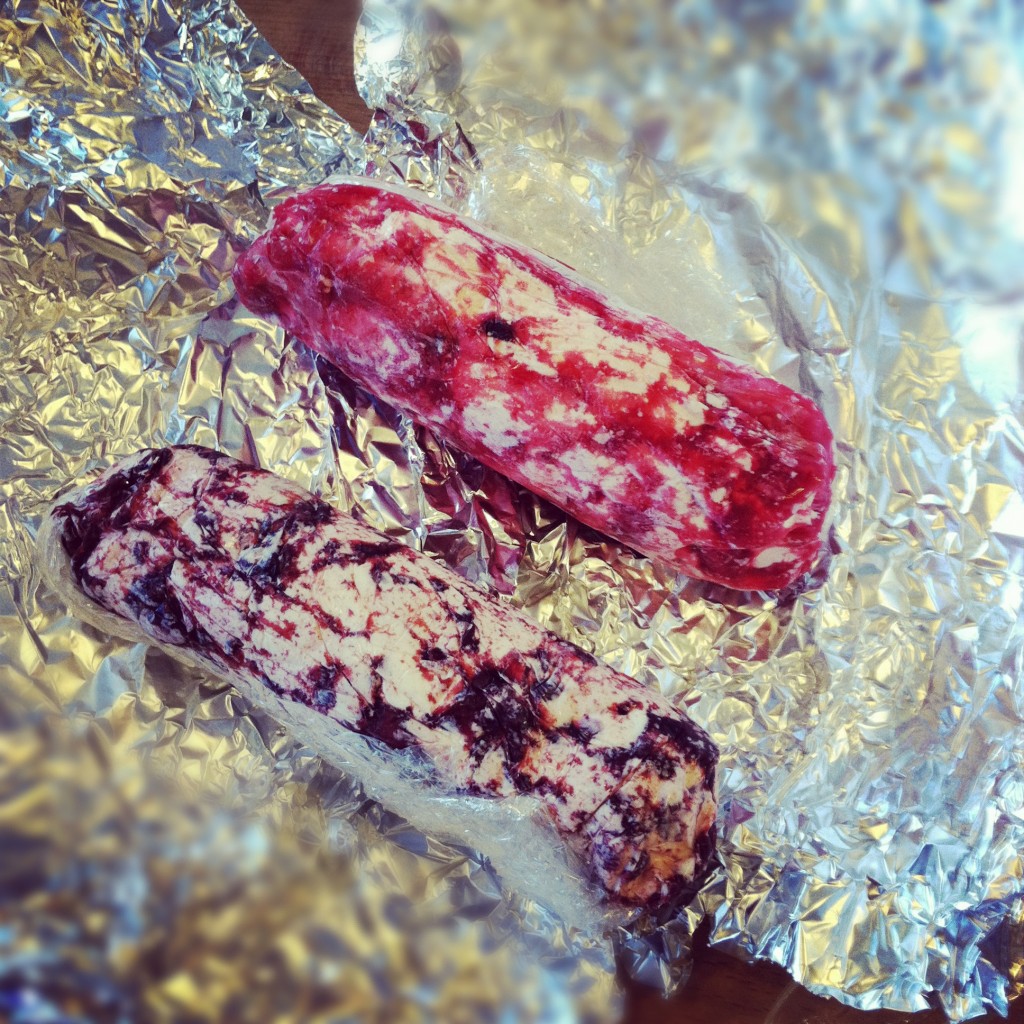 French Toast with Berry Butter hit another home run.  I had to coax the kiddos into trying the berry butter, especially after their father made a lewd comment about a lady he saw in the ER with gastrointestinal problems.  Yup the table manners around these parts are sketchy at best.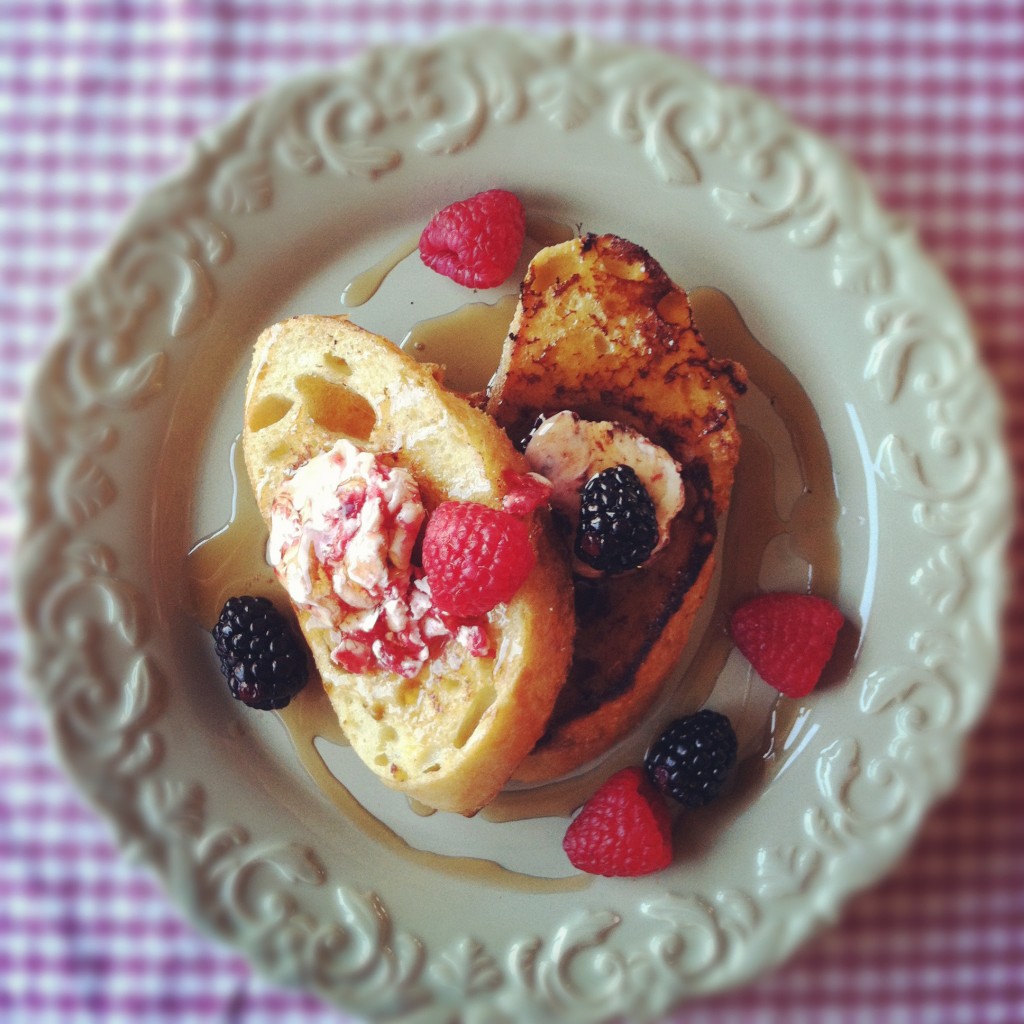 Mouthwatering…..of course flooding the griddle with butter and then cooking this french toast in it, didn't have anything to do with adding to it's decadence.  It was luverly…heavenly, and really pretty easy.  French Toast with Berry Butter received a standing ovation from the Johnson's.
Ok, well that's it for now.  I will continue to update this adventure through out the year.  BUT don't forget to come back on March 13 with your friends and family for a chance to win a signed copy of The Pioneer Woman Cooks Food from my Frontier.
Also if you have the Instagram app on your iPhone follow me at Eat2gather!!!
I will be shooting the photos for Cooking through Ree's Frontier on Instagram.
The Sisterhood of the Stretchy Pants lives on!
Sheila