Cooking through Ree's Frontier cont…..
Hello! How are you?  Did anyone out there remember that I'm cooking through Ree's Food from my Frontier cookbook?  Yup!  I am.  Still doing it.  I've sort of slacked on sharing this project with you lately.  Although if you are following me  on Instagram (Eat2Gather), or Twitter (E2gather)  you can keep track of my progress with the hash-tag #cookingthrureesfrontier.   I'm a little over half way done……which means I have 51 recipes left to cook.  Egads!  I still have time right?  I started the end of February…..so hey I think for once in my life I might be ahead of schedule!  Of course I have no plan, just flying by the seat of my pants, cooking up PW'scrumptiousness as time allows and the urge arises.
Do you have Ree Drummond's cookbooks?  What's your favorite recipe
 from either of her cookbooks?
As you know I cooked through her first cookbook too, I can't pick a favorite.  I love them both!
So are you ready? ARE YOU READY FOR SOME Peee DuuuuhB?! (singing this line to the tune of Monday Nite Football song)
I'm just going to lay it all on ya, I'm not holding back….hang on because this ride is SCRUMPTIOUS!

CHEESE and BACON and ONIONS! Oh MY!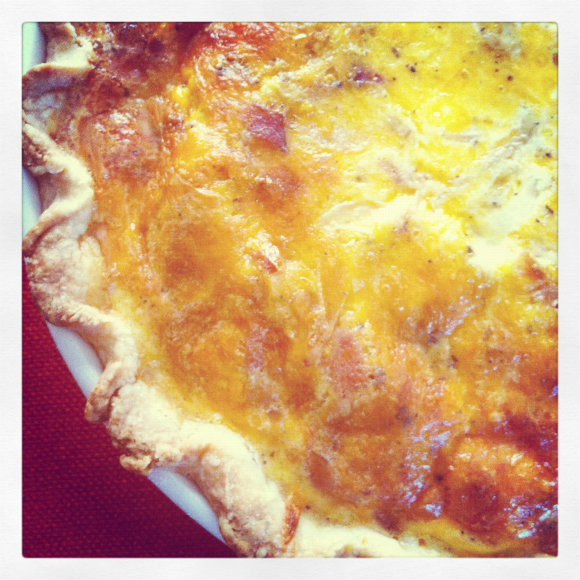 Cowboy Quiche will definitely get an OH MY! from your table guests.  I served this to my family for dinner.  There was nary a crumb left.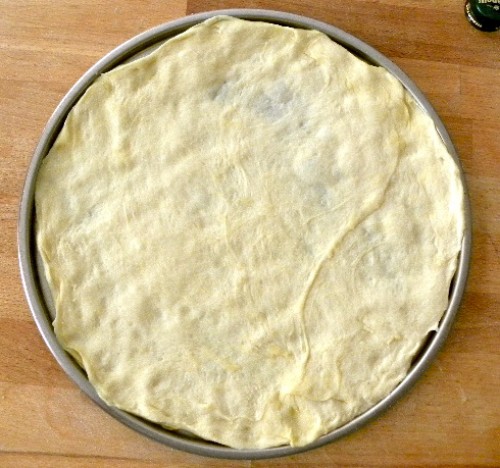 I love Ree's pizza crust recipe.  I turns out perfect every time.  The ingredients are basic, but the result is spectacular!  Who needs take out?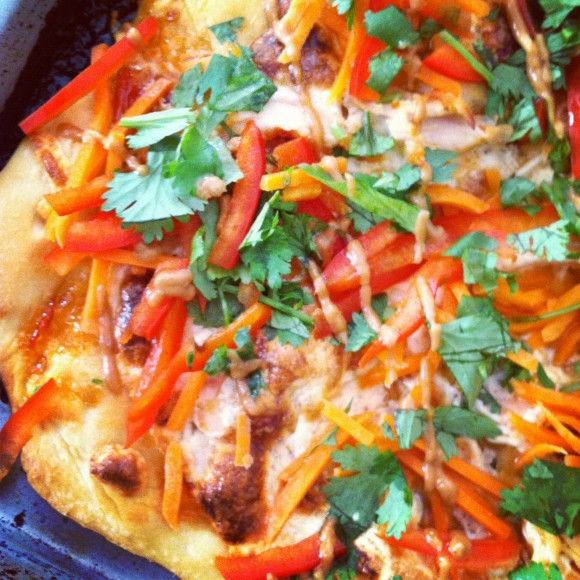 Thai Chicken Pizza.
This is my kinda ZAh.  Nothing ordinary or basic about this spicy Asian pie.
My third child had been begging me to make Ree's Summer Stir-fry.  It was easy, and lovely, we don't eat shrimp very often, so think I would make it with chicken next time.  Summer Stir-fry is a new family favorite.
Tequila Lime Chicken is a PW recipe I've made before, I thought it was on her blog….but I couldn't find it.  It's a winner!   She recently made this on her Food Network show which airs Saturday mornings at 10 or is it 10:30?  I DVR it, so I'm really not sure…..let me check for you….Ok it's 10:30.  If you haven't watched The Pioneer Woman on Food Network, you must!  And you must give Tequila Lime Chicken a try….who can go wrong with tequila!  Please…I know you want to sing "that" song to me right now…but…OK go ahead just sing it!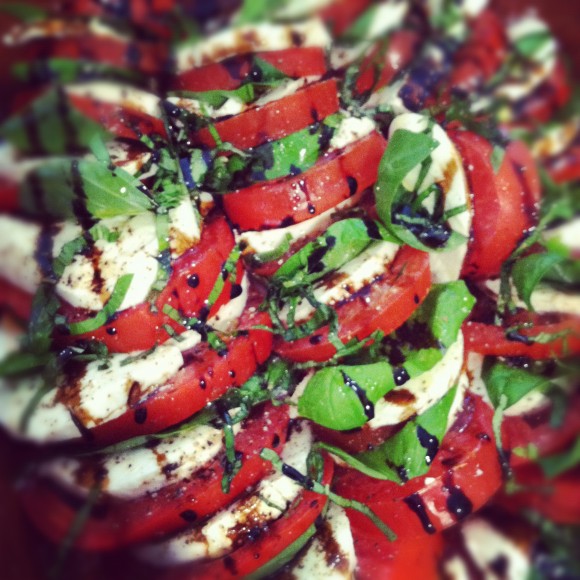 Caprese Salad is nothing new to my family.  They love it.  And Ree's is no exception. Simple, flavorful, stunningly beautiful.  Caprese Salad is the perfect start to any summer meal…..or really any meal anytime of year if you can find good tomatoes.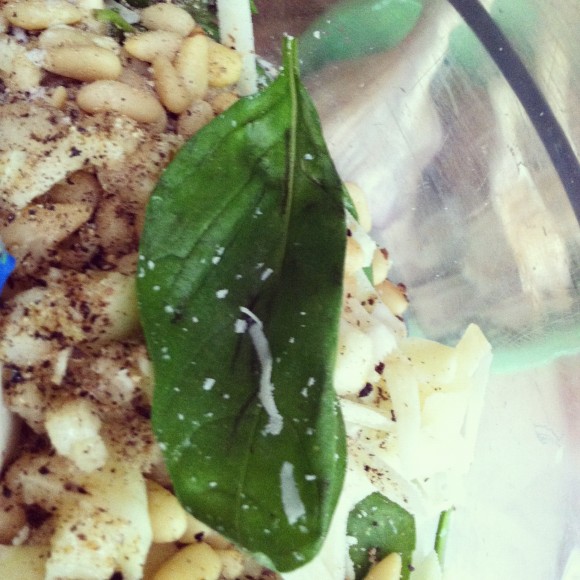 Pesto Chango!  In order to make Pasta with Pesto Cream Sauce I needed to make P-diddies Pesto.  Have you made pesto before?  It's so easy!!!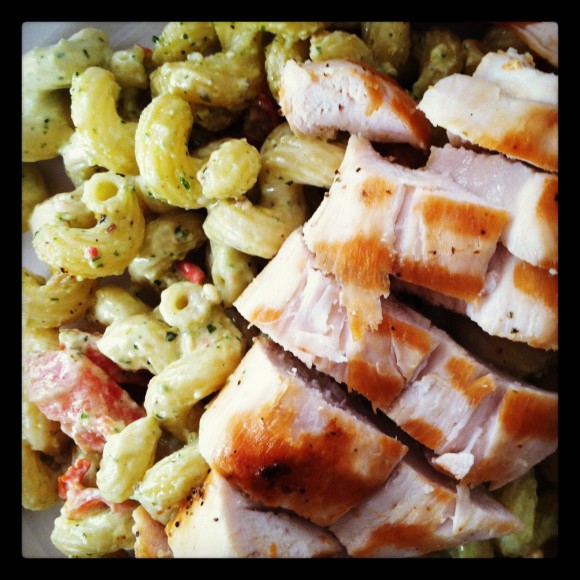 Toss Pesto with cream and pasta and some delicious tomatoes, and you'll have the perfect meal.  I added grilled chicken on the side of my Pasta with Pesto Cream Sauce, because the men in my house would not look too kindly on me if I served up a meal sans protein.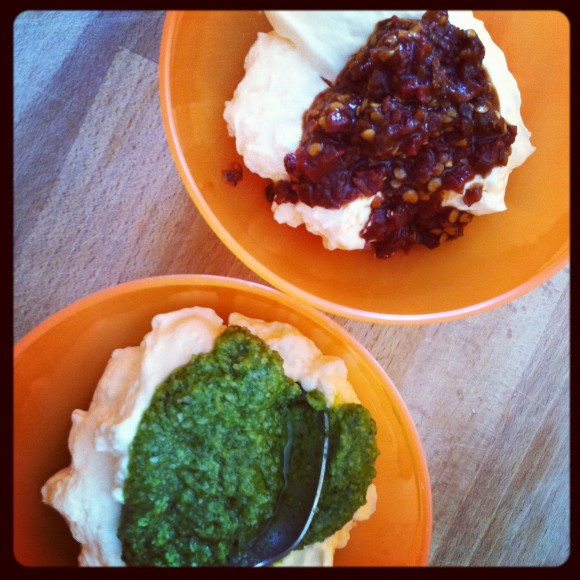 Not only does P-doob's Pesto make a great pasta dish, mix it with mayonnaise and VOILA!  You've got yourself an amazing sandwich spread.  The top condiment is mayo with chopped chipotle peppers in adobo sauce.  This combo was nothing short of life changing for me.  I slathered it on everything this summer.  Including the back of my hand, I just walked around licking myself like a dog….oooo-wee Chipotle Pepper Mayo is good chompin!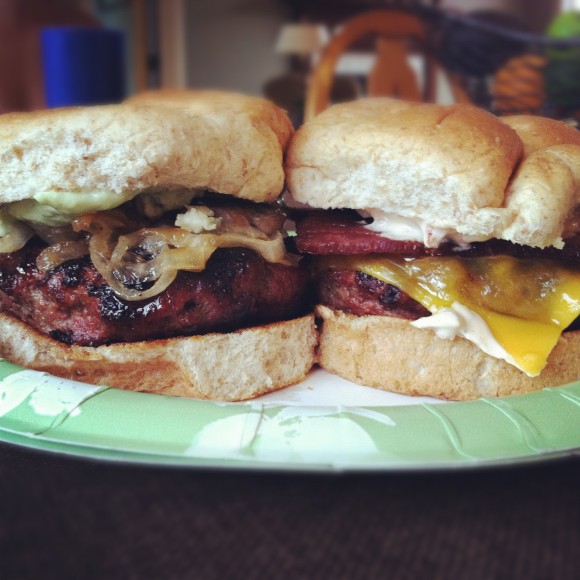 I made these His/Her Burgers for my mother-n-law.  She thought I was the best thing since sliced bread!  I tried to tell her it was all PW's fault, that I hadn't really invented anything new…..it was all Ree, but she wouldn't hear it, and after a while I just gave up and let believe that I had indeed come up with these fabulosO burgers on my own.  Guilt?   Well maybe a little.  I tried to tell her, she just wouldn't listen.   You know how mother-n-laws can be.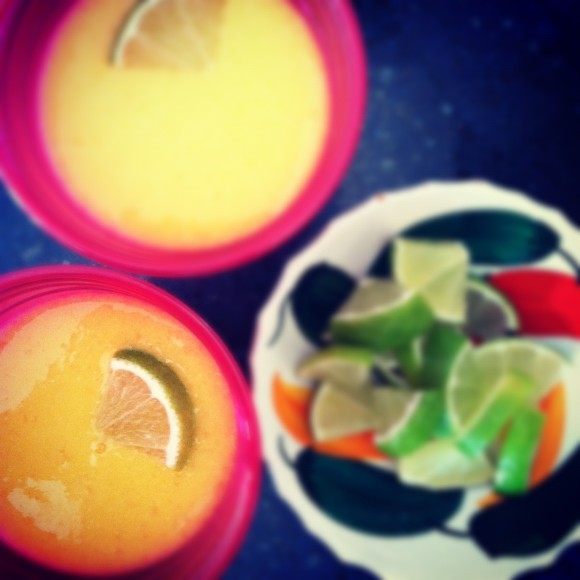 Mango Margaritas.  Need I say more?  I think Ree has a thang fer teh-kill-ya too!  These will take you to the danger zone…..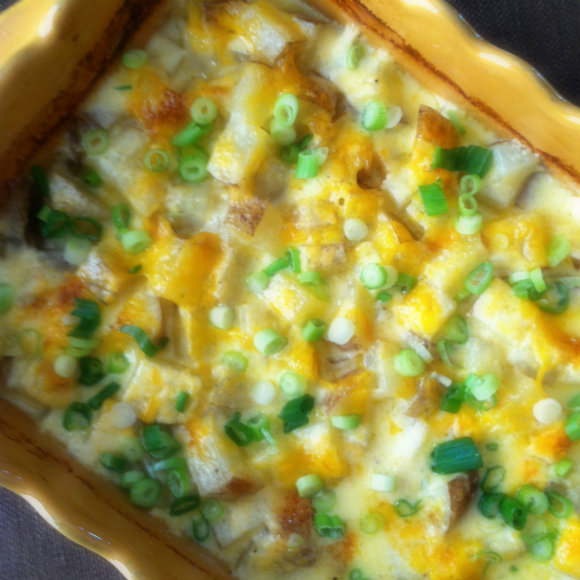 Perfect Potatoes au Gratin.  My momma always made au gratin potatoes, and scalloped potatoes.  I loved them as a kid, but I never make them now.  Why? I'm not sure.  My family enjoyed them too!  I think I need to add the potatoes au gratin to my regular rotation of side dishes!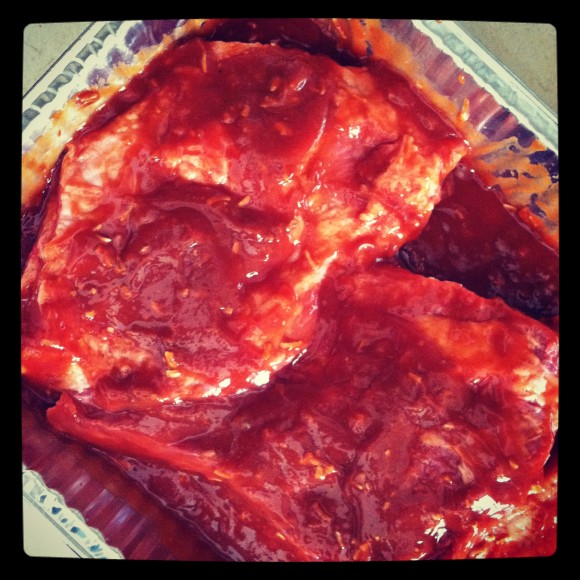 Ree's Tangy Tomato Brisket is so easy, and always gets raves when I make it.  I make it this year for the 4th of July, I put it in my crock pot and people helped themselves as they came.  Three ingredients.  That's it!!!  Only 3!  Perfect for Sunday afternoon football crowd.

Grilled Corn Guacamole.  This dip went so fast I didn't even get a picture of the finished product!  It was lovely.  I think I would like to pile it high atop a piece of grilled chicken or a burger next time I make it.  Oh guacamole how I love thee…..let me count the ways.

Let's end on a sweet note shall we…. The first picture is of PW's Apple Dumplings, this is actually the very first recipe of Ree's that I made.  Way back in the day…wink.  It's really low-cal…NOT!  My kids love it, and every time I make it it disappears.  Ree we need to name this Vanishing Apple Dumplings!   The second is Tres Leches Cake, which my baby asks for every year on her birthday.  It is lovely and refreshing, and oh so scrumptious!  Sorry about all the exclamation marks, can you tell I get excited over dessert?!!  Now for that cookie there on the end.  Those darn things need to be outlawed.  Malted Milk Chocolate Chips Cookies.  They make the best gol-dern ice cream sandwiches ever, but usually they get eaten so fast, I don't get around to making ice cream sandwiches with them.
So there you have it.  I think I'm caught up on posting all that I've made so far.  Which one do you think looks yummiest?  Or is that too hard of a question?
Love ya much! Sheila