I was selected by Kellogg to promote
The Great Eggo Waffle Off Contest
Please know that what I have shared is in all honesty 100% my opinion.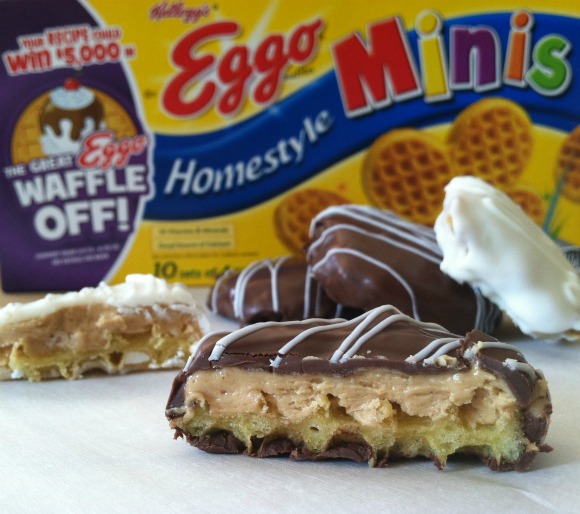 Have you heard of The Great Eggo Waffle Off ?  The Grand Prize is $5000 for the winningest recipe! There are also two $2500 prizes and 10 finalists will win a years supply of Eggo products!!!
I'm here to INSPIRE you to think "out of the box" the waffle box that is!!  
Gather around the toaster to discover just how delicious and rewarding your Eggo recipes can be!
Here's you chance to WIN BIG!  What will you come up with?
Enter your recipes in the The Eggo Waffle Off Contest.
For the next week I will be sharing my "out of the box" inspirations for Eggo Waffles with you!  Hopefully my recipes will inspire you to use Eggo Waffles in ways you never thought of!!  My family consumes boxes of Eggo waffles every week.  My 16 year old eats a box of Nutri Grain Blueberry Waffles in one sitting!  It has been fun for me to get creative, and my family has been loving eating Eggo Waffles morning, noon, and night!
BEWARE!  These quick and easy treats are addicting!  You will find yourself popping them in your mouth like jelly beans.  Your kids could easily make these with out much supervision.  No cooking or baking all you need is your microwave and a toaster!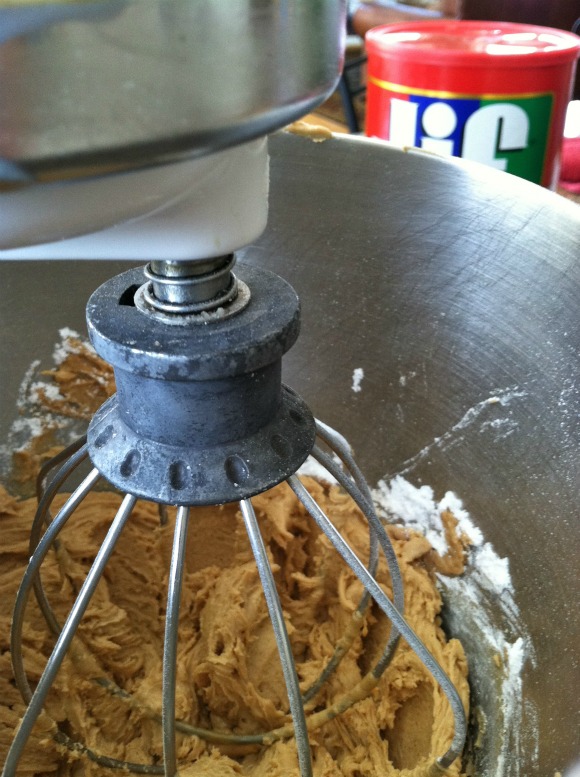 Oh! A mixer is helpful but not necessary. Mix together 1 cup peanut butter (crunchy or creamy) with 3/4 cup powdered sugar until smooth.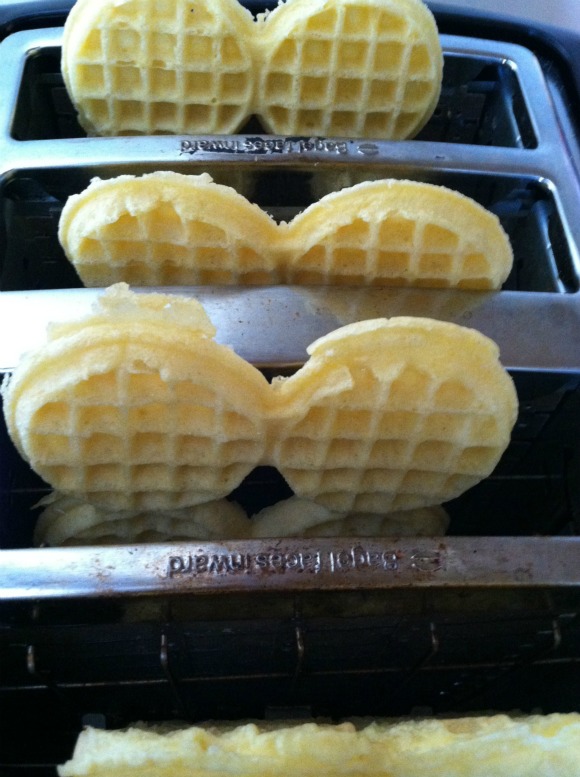 Toast five Mini Eggo Homestyle Waffles.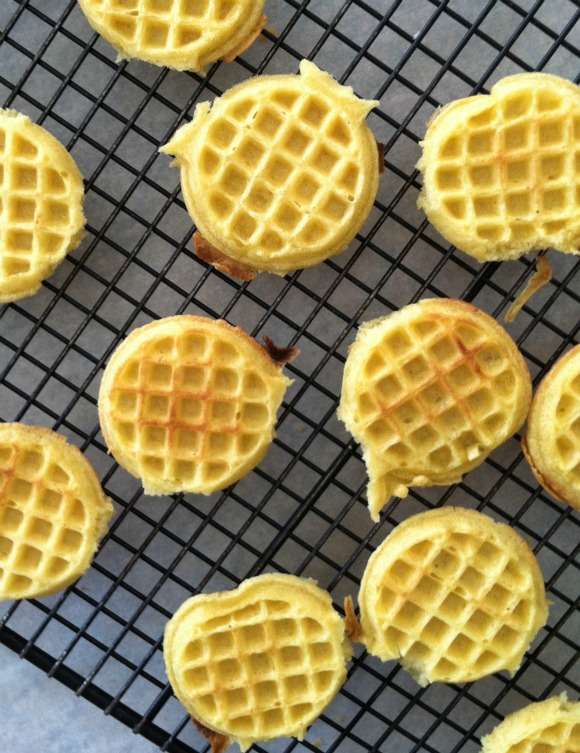 Place waffles on rack to cool so they don't become soggy.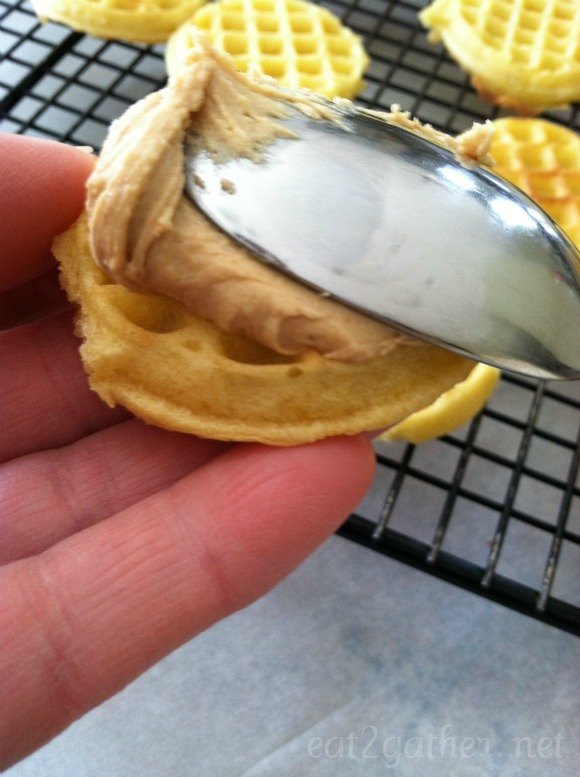 Now spread a spoonful of peanut butter cream on each mini waffle.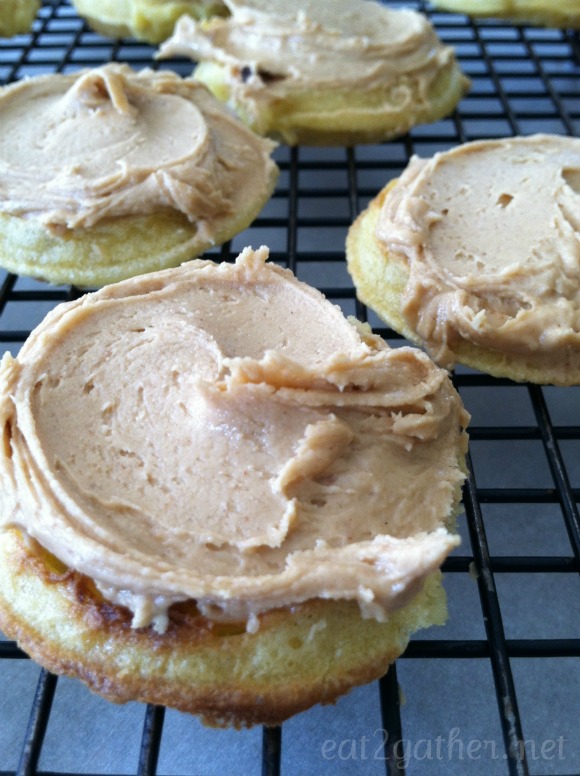 Looks good enough to eat right there!  Oh no we are not stopping there people…there's more!

In microwave safe bowl melt together chocolate chips and vanilla candi-quik.  Cook for 1 minute on high, stir, cook another minute.  If chocolate is not completely melted after stirring return to microwave for 15 seconds until melted.  Stir with spatula until smooth.

Now for the fun part!!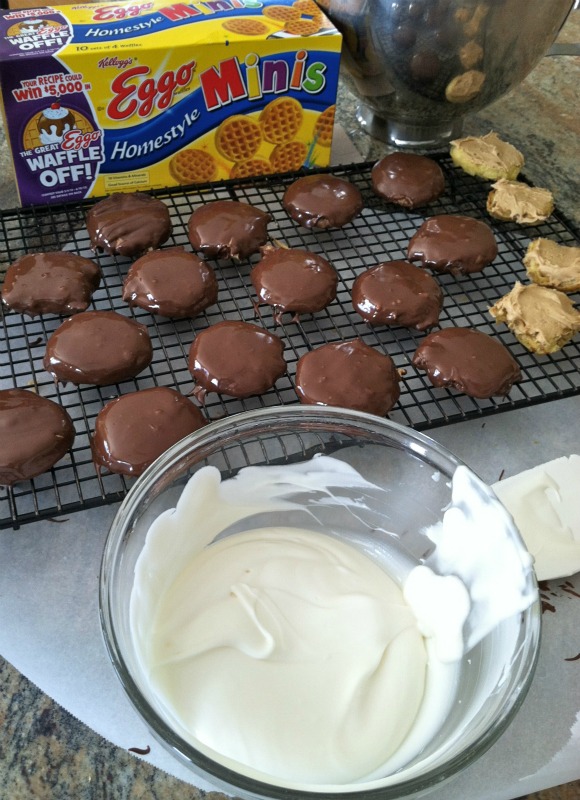 Return chocolate covered  peanut butter waffles to the rack, let rest for 30 minutes allowing for chocolate to set before eating.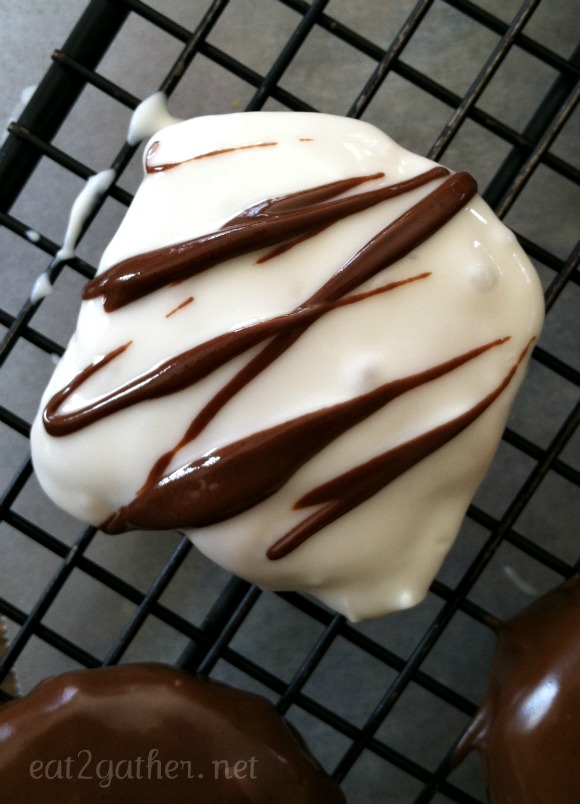 An Aternative version would be to use Cinnamon Toast Waffles and cover them in straight up vanilla candi-quik.  This version was actually super scrumptious as so noted by my littlest!!
[print_this]
Chocolate Covered Peanut Butter Bites
makes 20 bites
1 cup Peanut Butter (creamy or crunchy)
3/4 cup Powered Sugar
1 1/2 cup Semi Sweet Chocolate Chips
8 ounces Vanilla Candi-Quik
1/2 box Eggo Mini Homestyle Waffles
1. Cream together peanut butter and powdered sugar until smooth. Lightly toast mini waffles, to avoid waffles becoming soggy allow to cool on a cooling rack.
2. In a microwave safe bowl melt chocolate chips and candi-quick together at 1 minute intervals, stirring after each minute, until melted and smooth. This takes about 2 minutes.
Tip: Make sure that there is no moisture in bowl before placing chocolate in it, this could cause your chocolate to not melt properly. Be careful not to over cook chocolate, if there are a few lumps after 2nd minute try to stir them out out. If they won't stir out then try microwaving 30 seconds more.
3. Spread one teaspoon of peanut butter mixture over each Eggo Homestyle Mini Waffle.
4. Dip large fork in melted chocolate set peanut butter waffle on fork and spoon chocolate over waffle, tapping lightly on the side of the bowl to knock off any excess chocolate. Return to cooling wrack. Let rest for 30 minutes or until chocolate sets up.
Variations: You can also use Eggo Cinnamon Toast Waffles dipping them in melted Vanilla Candi-Quik or Chocolate is scrumptious too! Too make it super peanut buttery substitute 1/2 cup of the chocolate chips with peanut butter chips.  Get creative!
[/print_this]
So now it's your turn!  What new exciting way will you think of to used Eggo Waffles?
Don't forget to check back tomorrow I will be sharing another quick and easy recipe made with Eggo Waffles and there will also be a fun prize GIVEAWAY this week!
Be sure to LIKE the Eggo Facebook Page and keep informed of all the delicious recipes the other Chief Waffle Officers and I are sharing this week!
Disclosure:  I am being compensated by Kellogg for developing recipes to promote and inspire others to enter The Great Eggo Waffle Off Contest.  All the opinions expressed on E2g are my own, and are strictly aligned with the mission of my blog, which is the pursuit of food, family, and fun. I would never promote a brand or a product that I do not stand behind.