Chicken and Roast Red Pepper Waffle Panini
Enter your Eggo Waffle Creations in the  Great Eggo Waffle Off contest  for a chance to win $5000!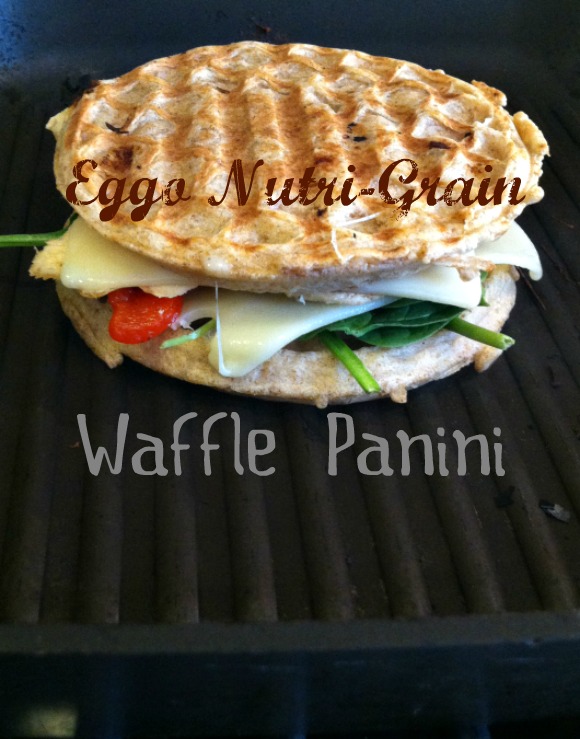 I am so excited this week to be working with Eggo as a Chief Waffle Officer!  As an officer we were asked to come up with 7 original recipes using Eggo waffles.  Snacks, breakfast, lunch, dinner, and dessert!  I hope my recipes will inspire you to come up with your own recipes using waffles.  Enter  your amazing Eggo Waffle Recipes here at the Great Eggo Waffle Off for a chance to WIN big!!
Have you entered your waffle recipe in The Great Waffle Off Contest yet?
What are you waiting for?  Go now!
The Grand Prize is a check for $5000! 
Two 1st place prizes for $2500!!
Ten finalists will win a years supply of Eggo products!!!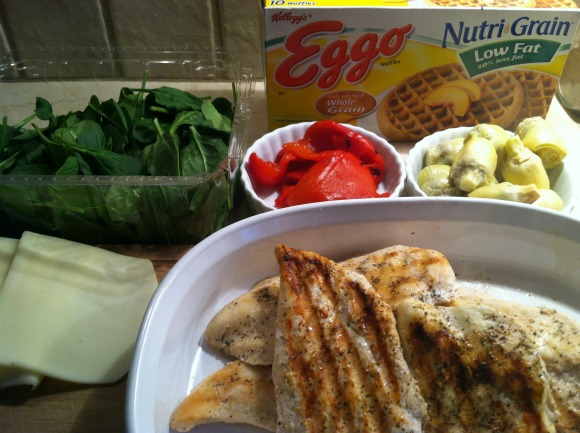 Eggo Nutri Grain Low-fat Whole Grain Waffles are the perfect start to making any panini sandwich.  I used roasted red peppers, mozzarella cheese, grilled chicken, and spinach.  You could use what ever combination you like….the possibilites are endless!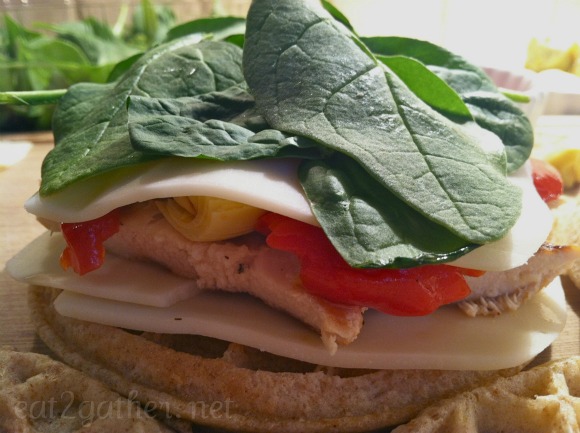 I snuck some artichoke hearts in this one!  Waffle, cheese, chicken, red pepper, artichokes, cheese, spinach, waffle!  That's Howey doey!  I didn't even butter the waffles, making this sandwich really quite healthy, and low-fat.
[print_this]
Chicken & Roasted Red Pepper Waffle Panini
makes 5 Sandwiches
1 box Eggo Nutri Grain Low-fat Whole Grain Waffles
1 jar Roasted Red Peppers, drained and patted dry
10 slices Mozzarella Cheese
4-5 Chicken Breasts, grilled and seasoned with salt and pepper, sliced into strips
2 cups fresh Baby Spinach
optional ingredients: artichoke hearts, onions, thinly sliced tomato, different varieties of cheese
Make an assembly line with the above ingredients. Preheat panini pan, skillet or griddle.
Panini Assembly: Waffle, slice of cheese, strips of grilled chicken, piece of roasted red pepper, slice of cheese, add nice pile of spinach, then top it off with another Eggo Nutri Grain Low-Fat Whole Grain Waffle.
If you using a non-stick pan there is no need to use grease, if not spray pan lightly with cooking spray. Cook until cheeses are melted and waffle has a crispy texture.
Note: If you don't have a panini pan have no fear any skillet can be used along with a plate or a large spatula to press down panini while grilling.
[/print_this]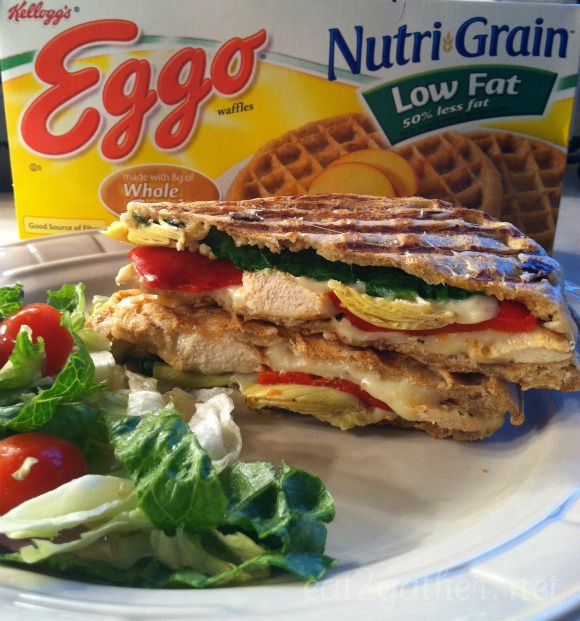 Check out The Great Eggo Waffle Off pinterest board for inspiration to make your own Eggo creations!
I was selected by Kellogg to promote The Great Eggo Waffle Off Contest.  Please know that what I have shared is in all honesty 100% my opinion. This is a sponsored post.  All opinions expressed are my own.