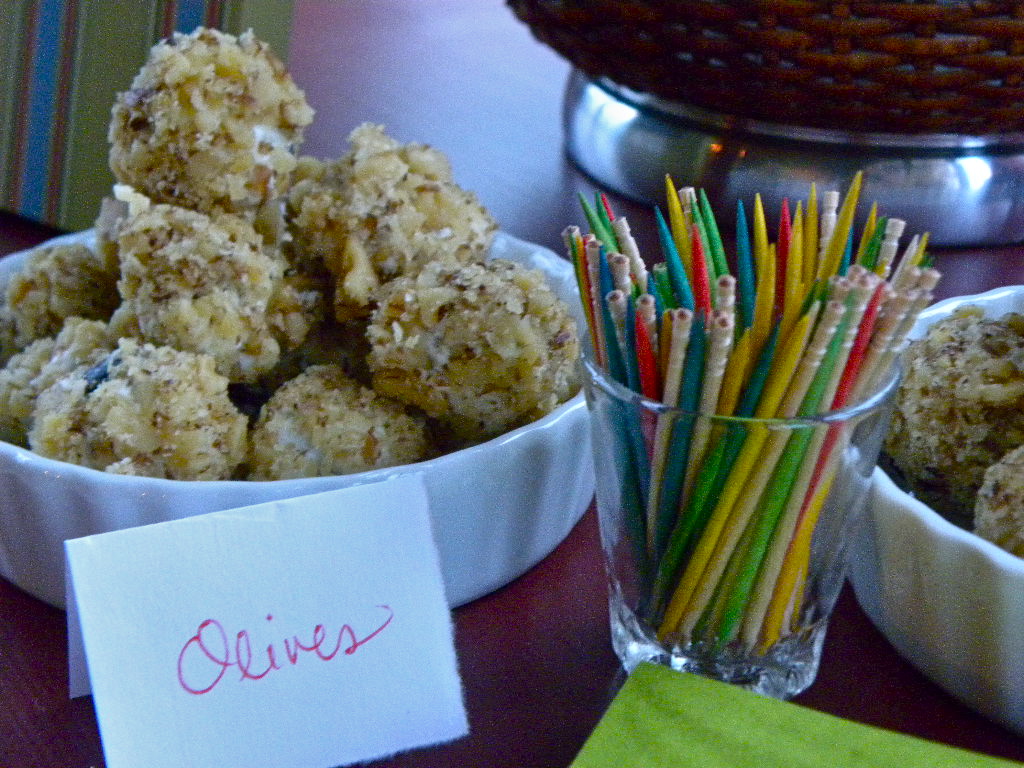 The winner of the $25 VISA Gift Card is Tina M.  Congratulations!  Send me an email with your full name and mailing address and I will send off your prize, lickety split!
December 12, 2011 at 10:26am
I love olives just as a side
Thanks you all for stopping by and sharing your love for olives.  There are some mighty delicious ideas in the comment section here.  I am delighted to know that I am not alone in my love for olives.  Because…..
I have a confession to make….Kenny….my beloved husband, the love of my life, my soul mate, the man that I have woke up next to for the past 17 years, this man…this amazing man that I  share my inner most thoughts and secrets with…this man HATES olives!  I know.  I KNOW!  It's hard to fathom, isn't it?!  It was nearly a deal breaker back before I fell in love with him.  He didn't like mushrooms or olives.  I LOVE mushrooms and olives.  Could I live my life with such a person? These were the things I contemplated early on in our relationship.  It was a rough go in the beginning let me tell ya!
I eventually was able to win him over on the mushrooms, but the olives NOT ON YOUR LIFE!  This man will find the miniscualest(word?) bit of olive.  Believe me early on I tried to sneak them in to dishes, but over 17 years the man has not budged!  I eventually had to adopt the MORE FOR ME attitude.
Well now that I have that off my bosom, I want to share another tasty olive morsel with you.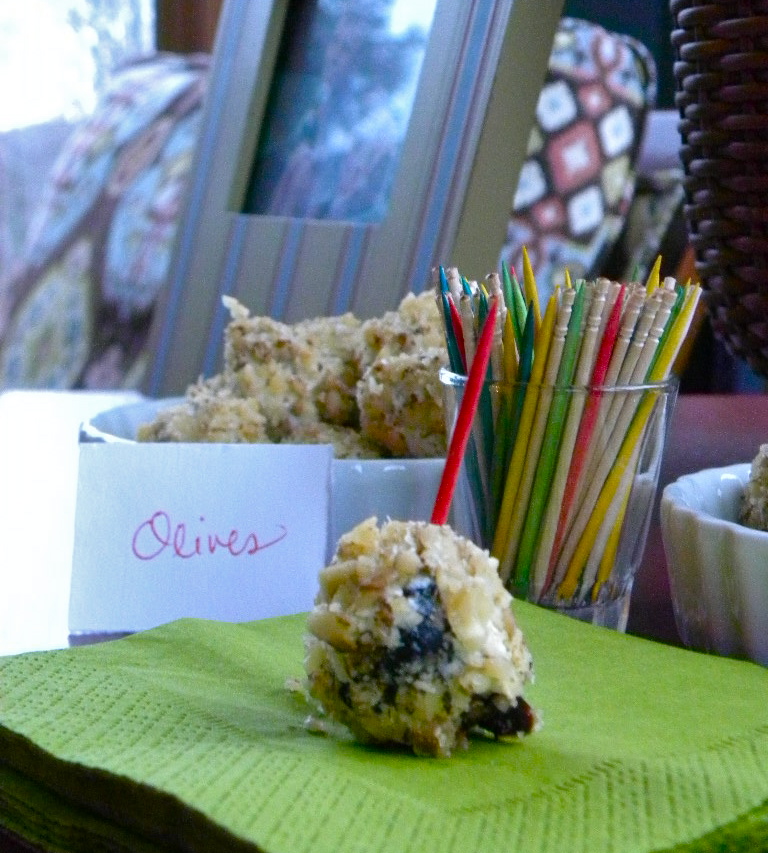 Recently at a Christmas party I had this same appetizer, only it was made with grapes.  I said to myself, "self".  No really I said to myself, hey I could make these with olives!   So I did!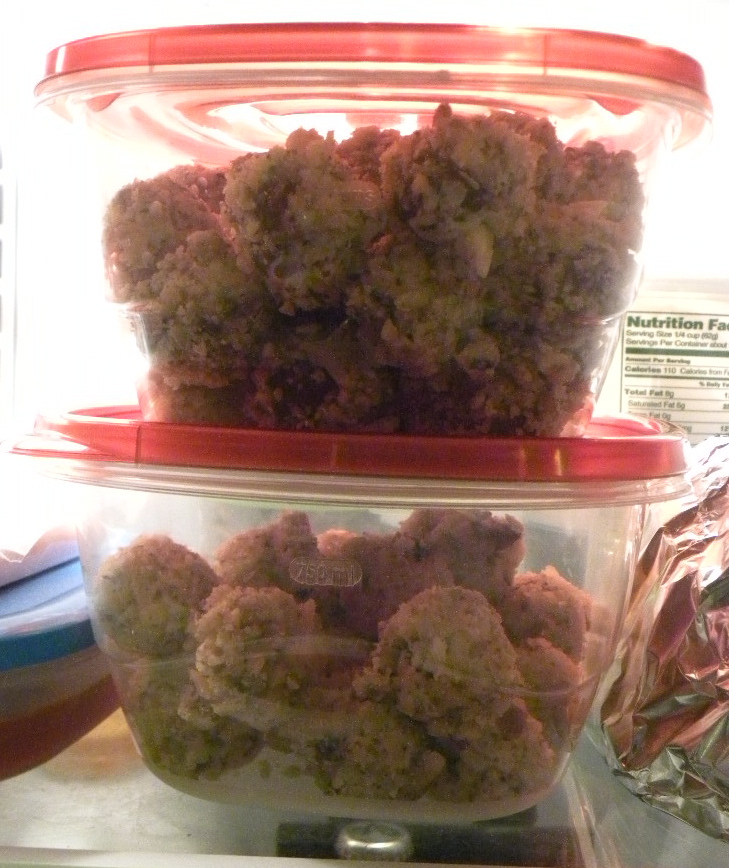 The best thing about these is you can make them up to 2 days ahead of time, keep them in airtight containers in your fridge and have them on hand for Holiday parties or unexpected guest.
Your fingers will get a little messy, but really other than that these yummy bites are so easy to make.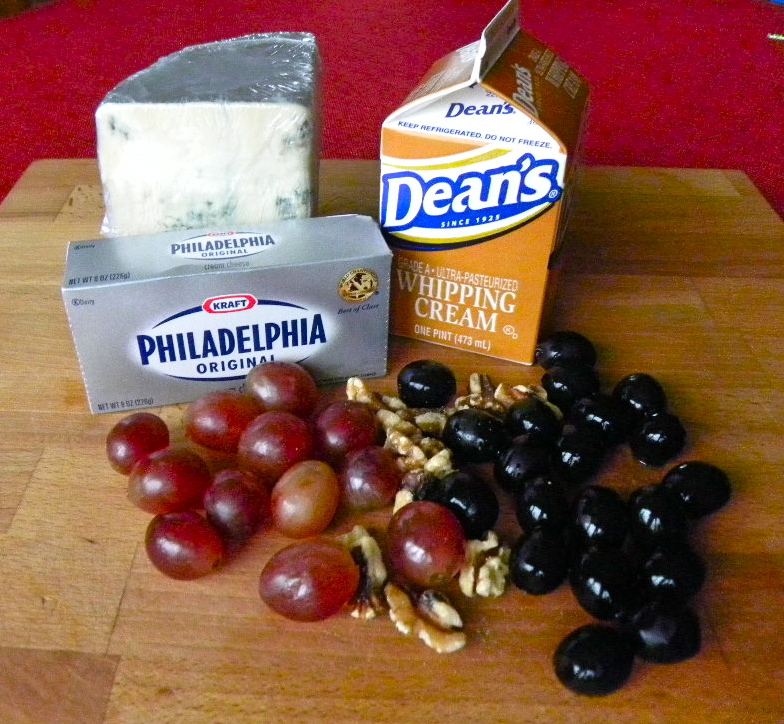 [print_this]
Blue Cheese Olive Appetizers
1 8 ounce package Cream Cheese, softened
1 cup crumbled Blue Cheese
5 tablespoons Heavy Cream
2 cups finely chopped Nuts, your choice Pecans, Walnuts, Almonds, Pistachio, Macadamia
1 can Black Olives, drained
25-35 seedless Grapes, washed and dried
Cream cheeses and heavy cream together with a mixer. If you are going to make both grapes and olives you will need to split the cheese mixture in half at this point and put in separate bowls. If you are going to do only olives or only grapes you can double the above amounts of olives or grapes. Take the olive/grape and dump them in with the cheese, fold them in to cheese until they are all covered with the cheese mixture. Pull out Olive/Grape one at a time and roll it in the finely chopped nuts, place on parchment lined baking sheet when you have rolled all the olives/grapes take the baking sheet and place it in refrigerator for at least 30 minutes, or up to overnight, then transfer to airtight containers.
Makes 50-60 pieces.
[/print_this]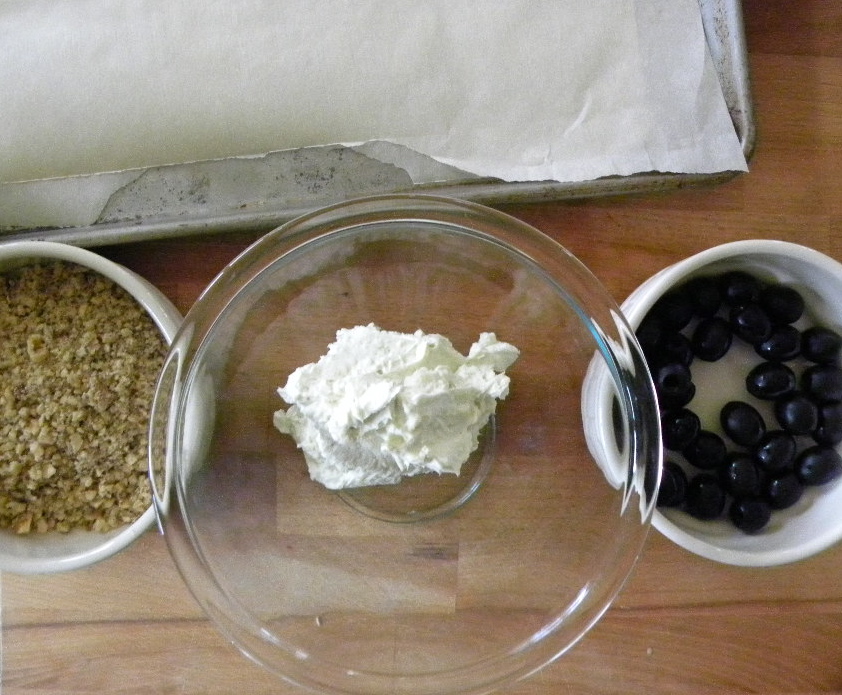 Line a baking sheet with parchment paper.  Cream cheeses together with heavy cream. Chop nuts finely.  Drain olives.  Get all your ducks in a row, assembly line style.  Make Henry Ford proud!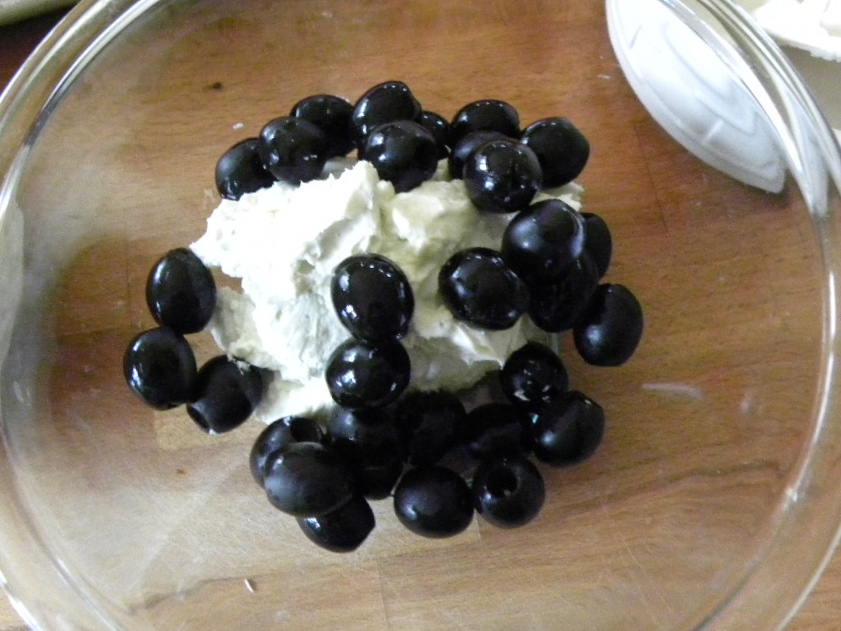 Blue cheese, cream cheese, olives.  I think I died and went to heaven.  I honestly could sit down with a spoon in hand and heat this….my gall bladder might explode, but it would be so worth it.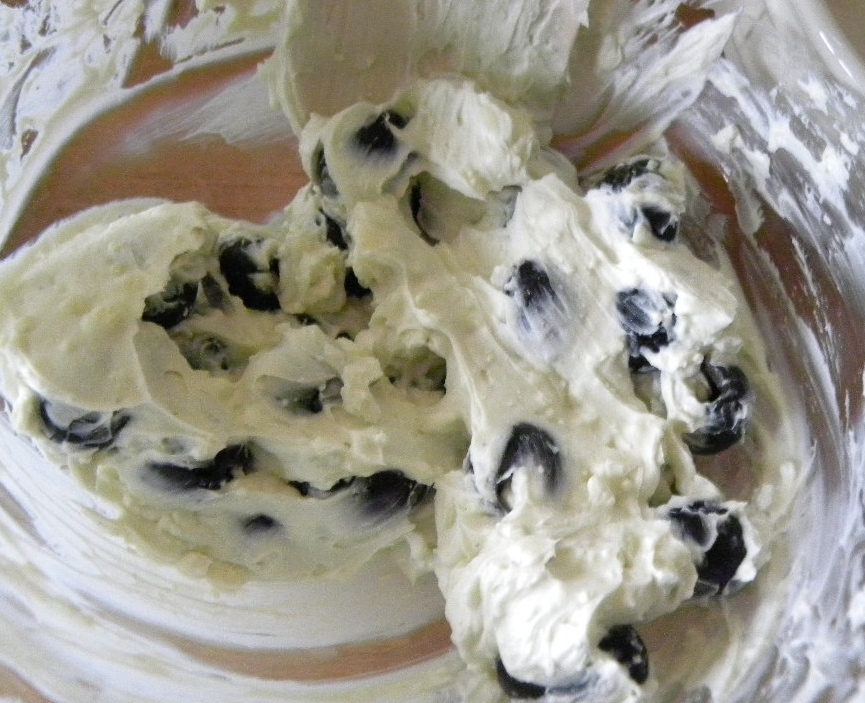 Fold the olives into the cheese, try to get them in there all nice and comfy cozy.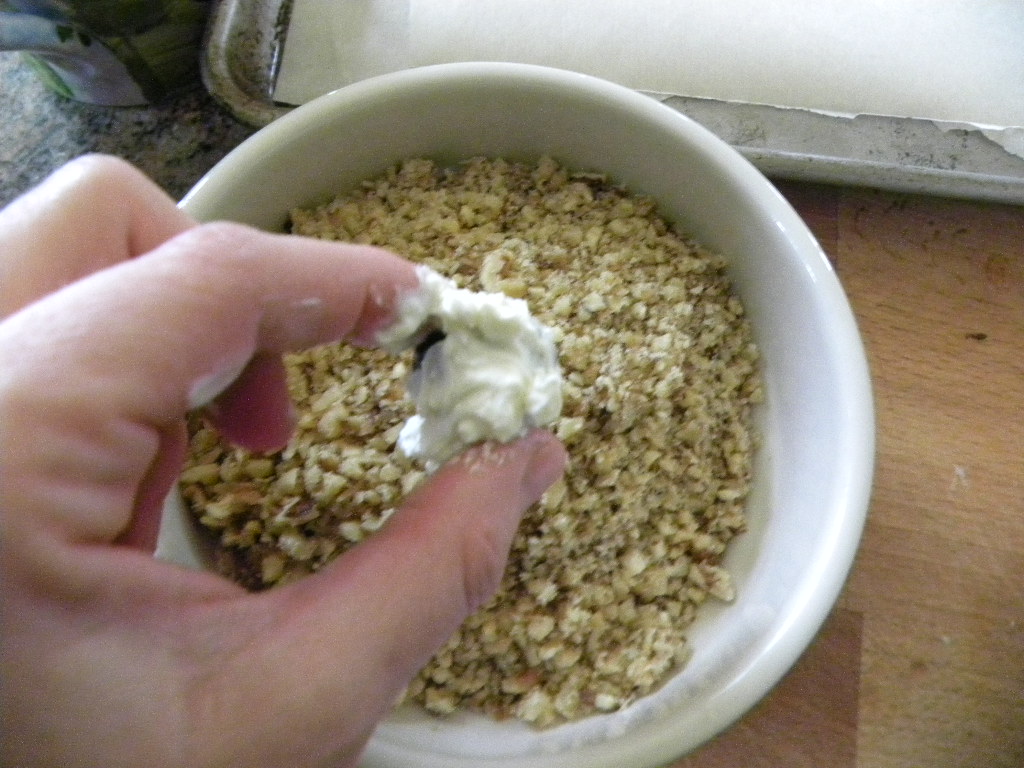 Pull the olives out of the cheese, this is where your fingers start to get a little sticky.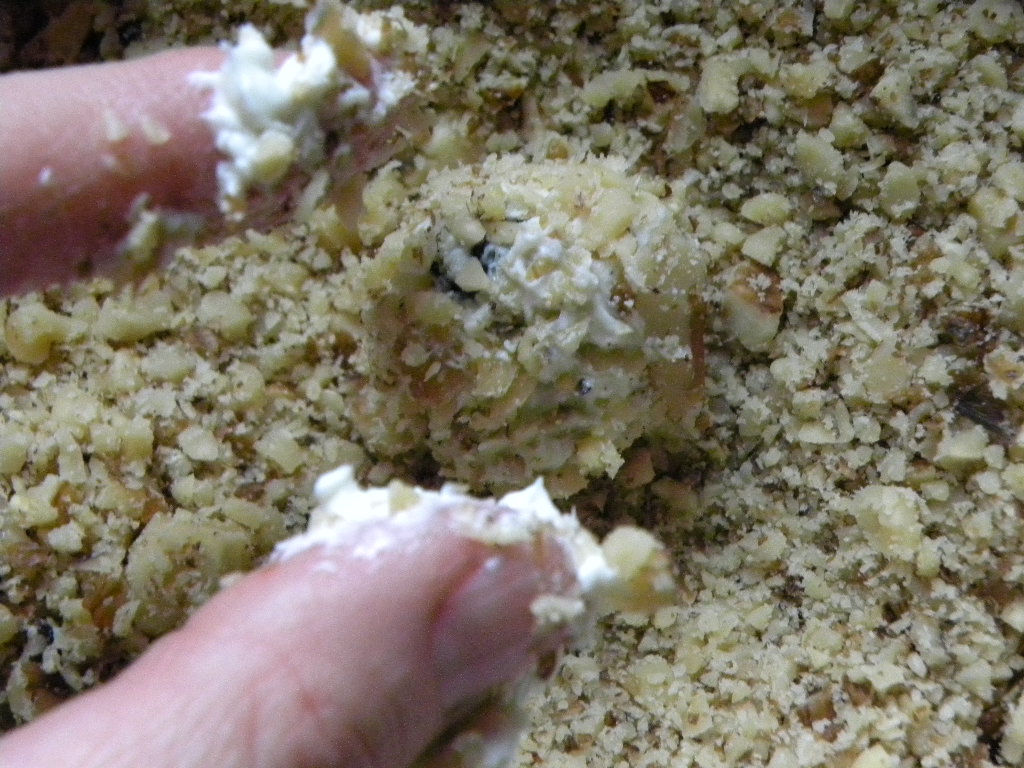 Give it a roll in the nuts.  So easy.  It' looks messy, but once you give it a roll, it turns out so round and purdy.  The hardest part about this is not popping them in your pie hole one after the next.  "Put the olive on the parchment ma'am and step away from the kitchen."  This is what the diet police would say if they encountered me in my kitchen making these tasty morsels.  Then they would say drop and give me 50 gagillion sit ups ma'am.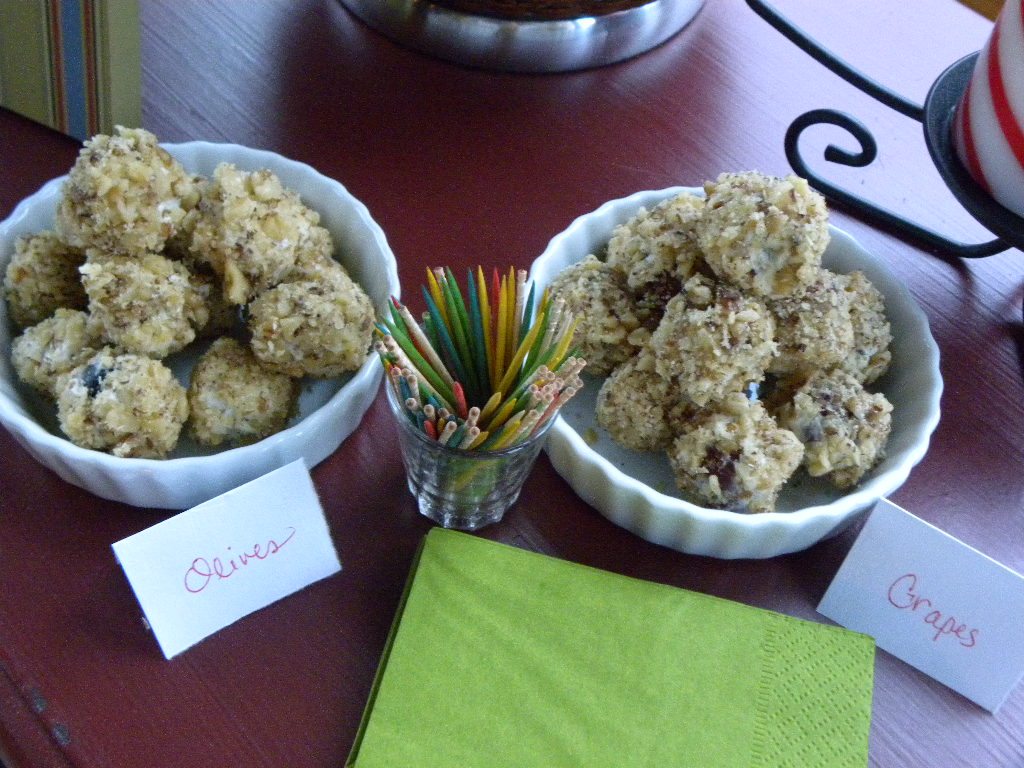 So easy to pop in your mouth!  The perfect party food.
Have you been out and about to Christmas Parties and celebrations? Have you tried any new appetizers? Did any of them include olives?
Thank You California Ripe Olives for the opportunity to do this giveaway and for inspiring me to come up with  deliciously easy to make nibbles that include delicious California Olives!
May your days be Merry!
Sheila