I'm still doing my giveaways the old fashioned way, using Random.org number generator to pick my winners. Today I worked Mr. Numberpicker over time! Five lovely people have been picked to win a personally signed copy of Bread & Wine by Shauna Niequist.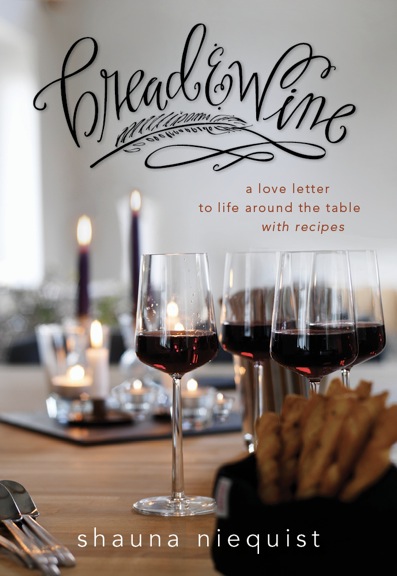 5. Becca ~ Becca said that family BBQ's is her comfort food.
6. Maureen ~ Roast chicken with mashed potatoes and gravy. Definitely comfort food and instantly brings me back to my mother's Sunday table.
1. Liz ~ For me it's always Lebanese food – reminds me of my relatives. 

41. Chellie ~ Yes you won…fer reals!!  Chellies comment made me sob…she won on her extra bonus entry though, see it's nice to share!
44. Jeanne ~I love to make broasted chicken and mashed potatoes and gravy.
WOW I can't wait for you ladies to read this book!  When you get a chance shoot me an email with your mailing address and I will get you your books lickety split…well maybe not lickety split, but how about as soon as possible! ; )  After you read Bread and Wine I would love to hear from you.  Hear your thoughts, did you cook any of the recipes, what was your favorite part……if you have a chance it would be fun to hear what you thought of it.
If you didn't win…BUMMERS!  I am so sorry.  I wish I was Oprah and could say books for everyone!  and a brand new VW Bug too!  But I'm not Oprah…obviously so I had to pick 5.  I highly recommend purchasing this book, I know you will love it!  If you can't find it at your local bookstore or if it's raining cats and dogs where you are and you don't want to leave your house well then you can get a copy of Bread & Wine a love letter to life around the table with recipes HERE.  Shauna's blog is also amazing so please give it a visit too.
That's all for now folks!  I hope to have some new recipes up soon, so ya'all come back now y'here!
luvya, Sheila