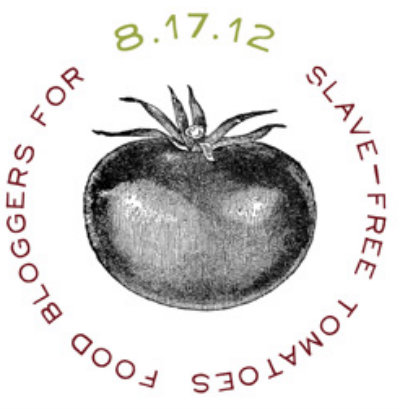 Being the tomato lover that I am,  today I'm joining bloggers around the country for Tomato Tuesday. I am sharing two of my favorite ways to eat tomatoes, and I am also sharing how you can join in the campaign to raise awareness regarding the injustices in the U.S. tomato fields. 
Even as a little girl I loved tomatoes. Fresh off the vine straight from my Momma's garden was my favorite way to enjoy a tomato. Warm from the Summer sun, I would pluck the tomato, wiping it clean on my shirt as I ran bare foot, back to the house to stand over the sink and sink my teeth into my fresh from the garden juicy tomato, sprinkling salt before each and every bite. My mouth is watering at the memory of it.  Earthy and sweet….I can smell my momma's tomatoes now.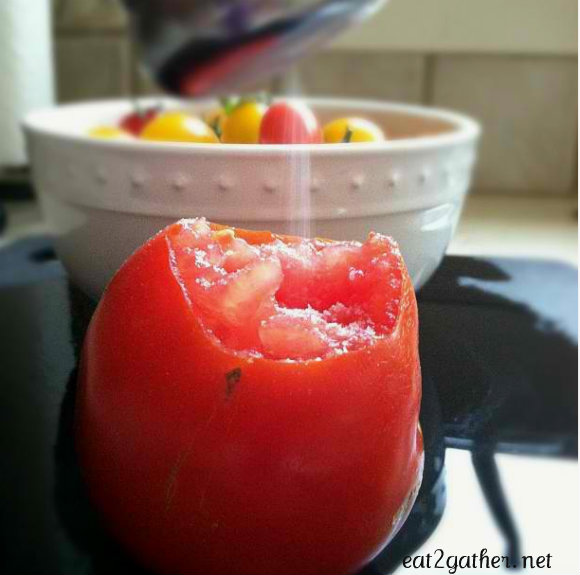 As a child I never ever thought twice about where my tomato came from. They came from my back yard. What wasn't eaten fresh, was canned and lasted us through til the next Summer. Although I do grow my own tomatoes, I'm not quite as ambitious as my mom was.  She was also driven by need to be frugal.   Nearly all our food, was grown either in our garden or came from a local farmer that we knew personally.  We never worried if the tomatoes we were enjoying were a product of  slave labor, and frankly until it was recently brought to my attention I was not aware that any of this was going on.  Scan down to find out more about how you can take part in IMJ's RECIPE FOR CHANGE. 
Another favorite way for me to eat fresh tomatoes is in BLT Sandwiches.
I bet you're not surprised, that my fave would include bacon!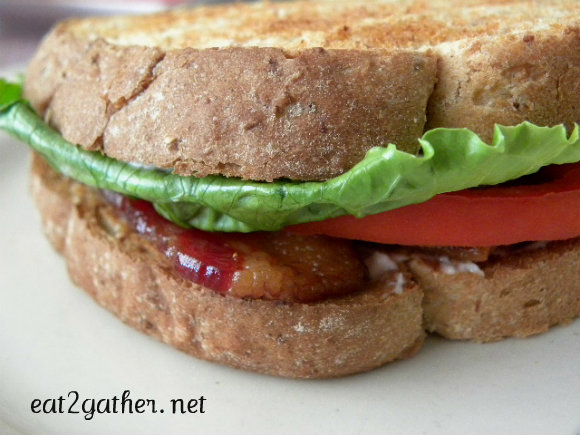 I knew right away when I signed on to be part of Recipe for Change that I wanted to share my 2 favorite ways to enjoy Summer fresh tomatoes.  Neither really requires a recipe, but if you don't mind humoring me I put together a few BLT sandwich collages for your viewing pleasure.

The four essential components for a perfect BLT sandwich:
1. Whole Wheat Bread, toasted.
2. Thick cut bacon, cooked with just the perfect amount of crispiness. (I bake mine.)
3. Romaine Lettuce, washed, dried, and torn into sandwich sized pieces.
4. Last but not least….the star of the show, the Toe-Mater.  Sliced into not too thin, not too thick slices.  If you would like me to be more specific 3/8 ths of an inch thick slices are perfect!  A serrated bread knife slices tomatoes perfectly!

Now for the assembly:
1. Mayonnaise, never the other stuff.  Only real Mayonnaise will do.  Spread a thin layer on both sides of toast.
2. Here's where things get tricky.  Does one start with the bacon, the lettuce, or the tomato?  How ever you start the layering process, the tomatoe needs to be in the middle.  My reasoning is this…you get crunchy from the toast, crunchy from the bacon, and lettuce with the beautifully juicy tomato perfectly placed in the center.
How do you stack your BLT?

Then your BLT needs to be cut into triangles, of course.
True or False a sandwich taste better when cut into triangles.
TRUE!
I'm pretty sure that this is a commenly known fact amongst sandwich connoisseurs.
So there you have it!  Two ways ways to enjoy fresh tomatoes.  Fresh from the garden, and as the center of attention in the BLT sandwich.
BUT WHO CAN TRULY ENJOY  a tomato unless we know it's a product of fair labor.  How can we be sure that the tomatoes we purchase in our local grocery stores come from farms that are not involved in slave labor?
HERE'S HOW:
The Problem Slavery is not just happening overseas. Chief Assistant U.S. Attorney Douglas Molloy once called Florida's tomato fields "ground zero" for modern-day slavery in the United States. In the past 15 years, over 1,000 people have been freed from slavery in U.S. tomato fields.
The Solution Recipe for Change–a campaign led by International Justice Mission in partnership with the Fair Food Standards Council and the Coalition of Immokalee Workers–is targeting three major supermarket chains this summer (Ahold, Publix and Kroger's), and asking its CEOs to support the Fair Food Program. Corporations that join agree to pay a small price increase for fairly harvested tomatoes (1.5 cents more per pound), and promise to shift purchases to the Florida tomato growers who abide by these higher standards–and away from those who won't.
Major fast food companies, like McDonalds and Subway, have already endorsed the Fair Food Program, but the largest U.S. supermarket chains have yet to support this collaborative effort to eradicate modern-day slavery.
Call to Action Supermarkets can help eliminate slavery and other serious abuses from the tomato supply chain when they join the Fair Food Program. But in order to change its policies, CEOs need pressure from consumers.
Take 30 seconds, raise your voice.  Go HERE to sign your name to help ensure that supermarket tomatoes are slave-free!
Follow The Giving Table on Twitter, you can also follow The Giving Tables on Pinterest. 
Recipe for Change bloggers:
Bake your Day Cassie
The Giving Table Nicole
Gimme some Oven Ali
Let's make a difference!