Azteca Prize Winner is number 32 Jeffrey!
I love that you use a meal plan.  Planning ahead and looking at what your week will bring is always the best way to stay on top of the almighty schedule!  Jeffrey shoot me an email with your full name and mailing address and we will get your prize right out!  Have a great week!
______________________________________________________________________
Need to get a healthy, fresh, dinner on the table fast for your crew?  BBQ Chicken and Pineapple Quesadilla Pizzas, made with Azteca No Artificial Preservative flour tortillas, are just what the team ordered!!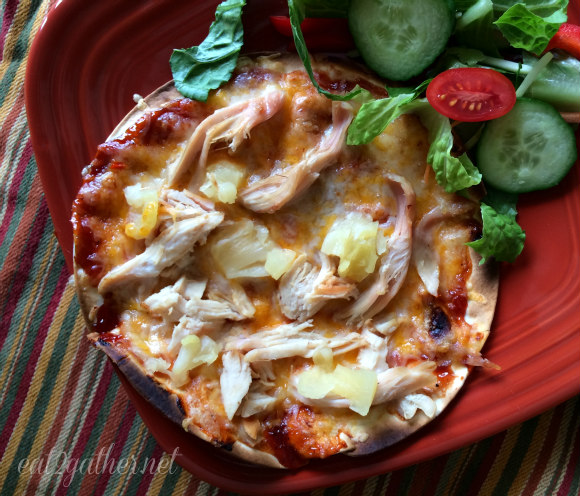 FIRST I need you to know that Azteca is giving me a $75 gift card to Walmart, seventy-five bucks people!!  And coupons for free Azteca tortillas, as well as an awesome 365 Happy Planner that will help you get a handle on your schedule and have more family table time! Don't forget to CHECK IT OUT BELOW.  Now as I was saying….If you're  like me you're in the thick of it with fall schedules!  Hows dinner time going?  I know, I know, it's tough, but I'm here to help!  No matter how busy your schedule is there is still time for a homemade meal for your family.  I think so many people think homemade meal needs to be time consuming and complicated.  Not true!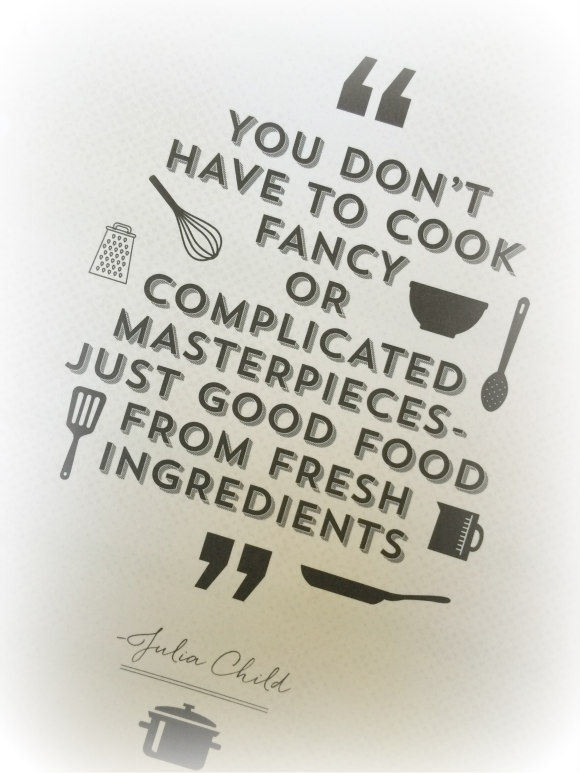 3 Easy Tips for getting dinner on the table fast:
Keep bags of cooked meat

, like ground beef or shredded chicken, premeasured in your freezer for quick quesadillas, soups, pizzas, or tacos.
I always like to keep bagged

salad in my crisper

it's prewashed and ready to go add a little cheese, some croutons, your favorite salad dressing and you've got some color in your diet.  Or use it to make a quick wrap: chicken, cheese, lettuce, ranch dressing, Voila!

I always keep flour tortillas on hand

.  I can quickly make my kids quesadillas, tacos, breakfast burritos,  a healthy wrap sandwich, or even pizza!  And if you have a night that is too busy to sit down a quesadilla, wrap, or burritos is easy to eat on the go.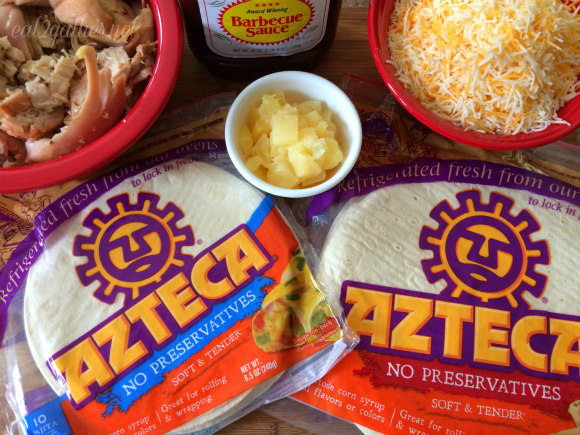 You can find Azteca flour tortillas with the freshest foods in the refrigerator section of Walmart and Family Fare stores!  Azteca No Artificial Preservative flour tortillas are not made with high fructose corn syrup, or artificial colors or flavors of any kind, they are part of Aztecas better for you options which includes tortillas with added calcium, vitamin D, and whole wheat flours!  Not only are these flour tortillas better for you they taste amazing as well, just ask my kiddos!

BBQ Chicken and Pineapple Quesadilla pizzas are basically all of our families favorite things smashed into one, quesadillas, pizza, and BBQ, BAM!  The cheese quesadilla becomes the pizza crust, add the bbq sauce, chicken, pineapple, and any other toppings you like.  I added jalepenos and red bell peppers to mine.  You could top them with diced avocado and some chopped cilantro after they come out of the oven adding more good for you fresh ingredients!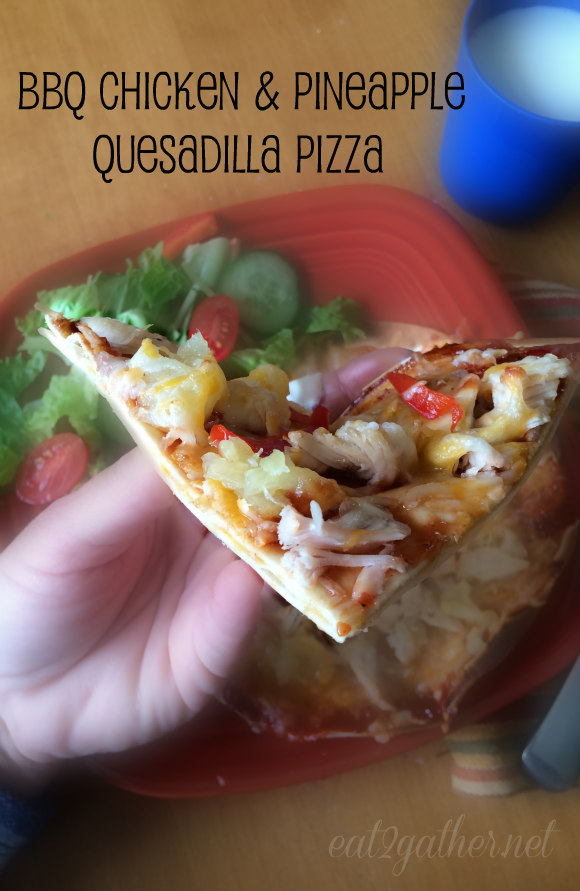 Come to momma!!  Quesadilla pizzas are so easy and mmmMMMmmh! so good!  Ignore the unsightly bandaged finger.  I sharpened my knifes and well then cut my finger off….almost.
[print_this]
BBQ Chicken and Pineapple Pizzas
Makes 5 pizzas
Serves 4-6
1 package (10) Azteca no artificial preservative flour tortillas
4 cups shredded Colby Jack Cheese
2 Cups shredded Chicken
1 4 ounce can crushed Pineapple, drained
BBQ sauce, your favorite brand
extra toppings ideas: jarred jalepeno peppers, red peppers, green peppers, onion, diced tomato, garnish with diced avocado, and or chopped cilantro
Turn broiler on high, place oven rack near the top.
1. Heat a large skillet or griddle over medium high heat. Place a flour tortilla in the pan, sprinkle with cheese,  place another flour tortilla on top when cheese quesadilla is brown and crispy on one side flip to other side, remove from heat to a baking sheet when both sides are browned and crispy.
2. Spread favorite bbq sauce over top of cheese quesadilla, add pineapple, and chicken and another sprinkle of cheese place under the broiler until cheese is melted, bubbling, and starting to brown.
3. Remove from oven, cut into quarters.   Garnish with avocado and/or cilantro if you like.
Enjoy!!
Note: Get creative quesadilla pizzas can be topped with any of your favorite pizza ingredients!
[/print_this]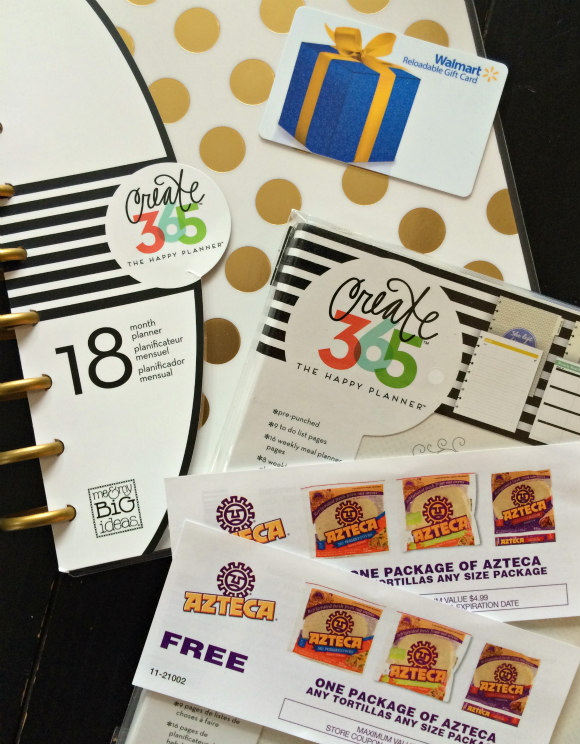 GIVEAWAY!! I'm super-dee-douper excited about this giveaway
Giveaway includes:
· Two (2) Azteca Free Product Coupons
· 18 Month 365  "Life Planner" with a home-focused extension pack
Enter to WIN:  It's simple!! Answer question in the comments
 Share your best tip for serving your family fresh healthy meals fast?
Extra Entries:
Share giveaway on your social media, instagram, Facebook, twitter, pinterest, snapchat come back and leave an extra bonus comment letting me know how and where you shared!
Follow Aztecas Pinterest board for more great fast, fresh, healthy recipes leave a comment letting me know you did.
You could potentially enter 3x!  Ready, Set, GO!
Official rules and regulatory stuff:
One comment per person. Unless……You share giveaway on your social media, instagram, Facebook, twitter, pinterest, snapchat, or you follow Aztecas Pinterest board leave a comment letting me know you did.  No more than 3 comments per person.
Deadline to enter is Saturday October  17 at 12 noon EST.
You must be 18 years or older and live within the United States.
Go forth and make quesadilla pizzas!
Disclaimer:  I am being compensated by Azteca Foods for creating this content and facilitating a giveaway.  Thank you for supporting the brands that make Eat2gather possible, as always all thoughts and opinions are my own!