Asian Napa Cabbage Salad ~ Redo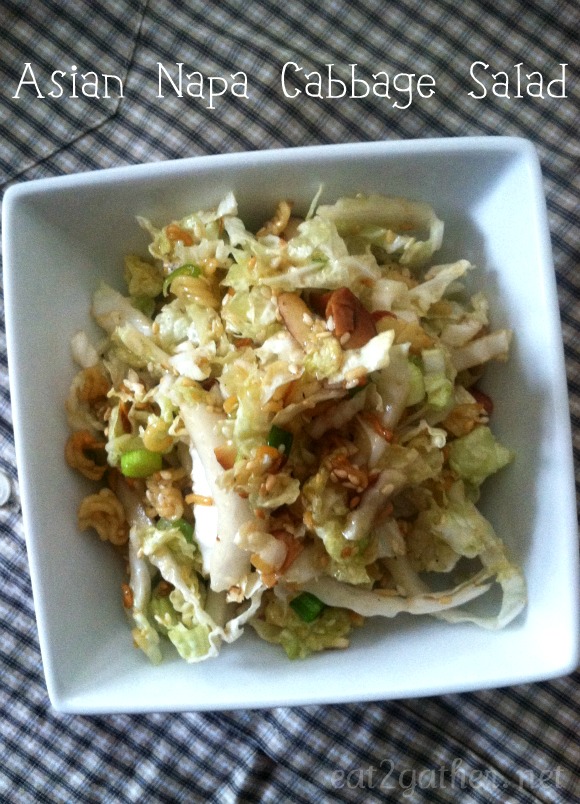 Sometimes recipes just need to be reposted.  Pulled to the top of the heap again.  This is one of them.  I fix this salad for nearly every get together.  It is always a hit.  Our pastors wife is quite famous for it,  one friend of mine calls this Sheeela's Salad, well I can't take full credit for it.  While there are many versions of this salad this one evolved from the recipe that Susan(pastors wife) gave me many years ago.  If you would like you can check out my original post .
I think it's best to prepare the three parts of this salad and then toss it together just before you are ready to eat.  Unfortunately this is not a salad that holds up well, it tends to get soggy and runny after a period of time.  This is never much of a problem because rarely is there any leftover!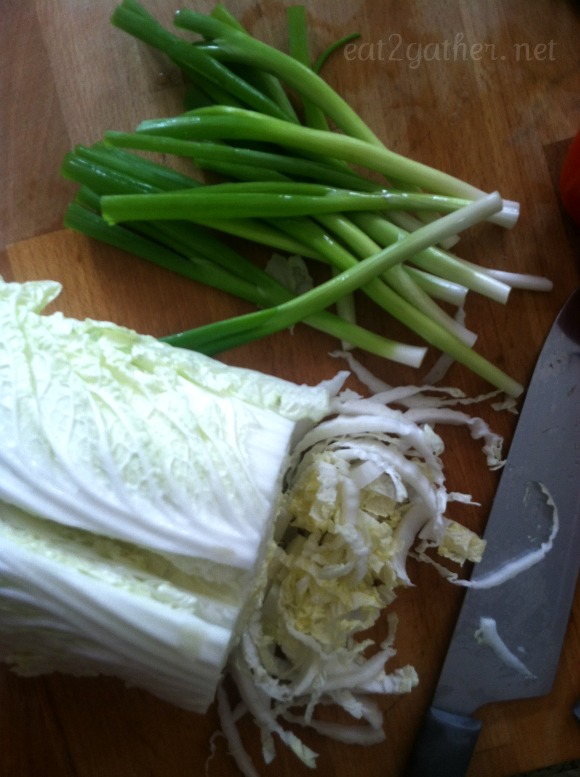 Component number one.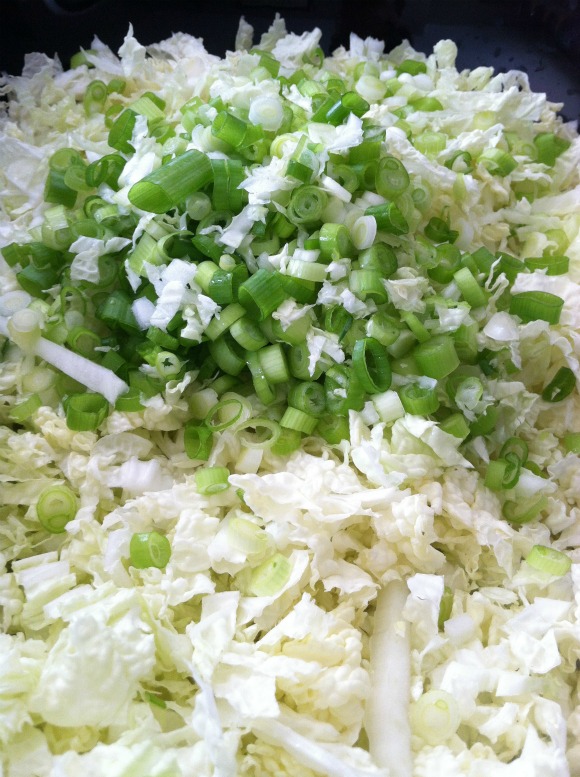 Shredded cabbage and sliced green onions.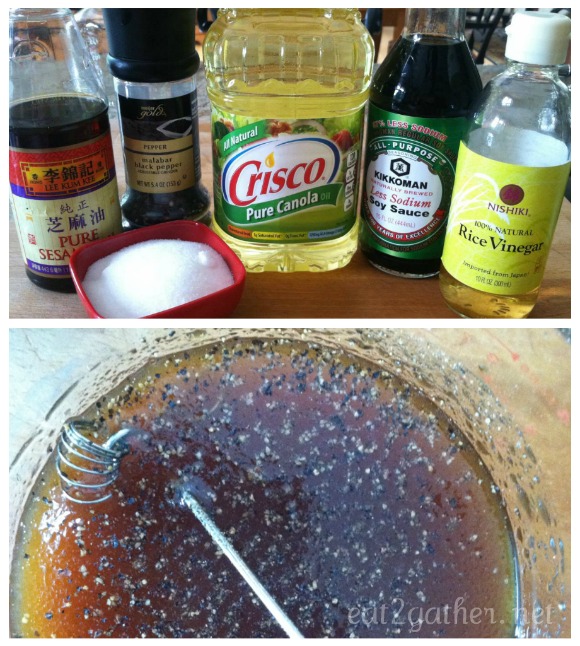 Component number two.  Whisk all the ingredients for the dressing together and set aside.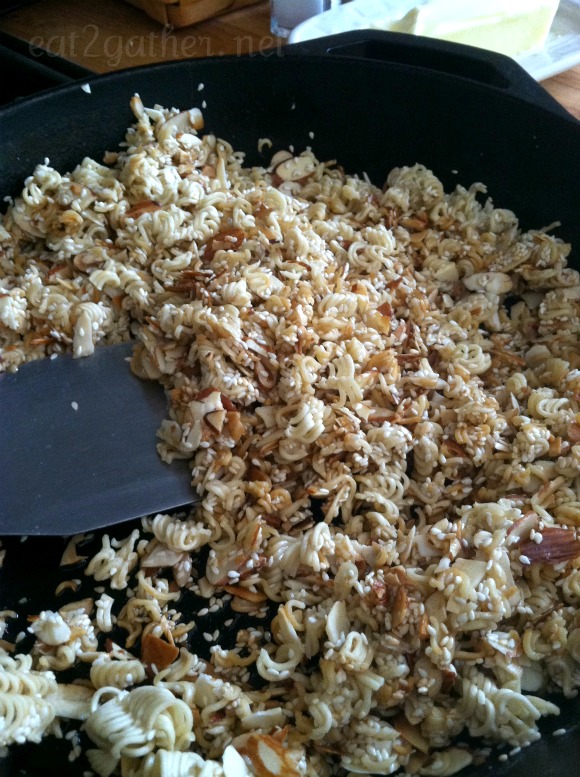 Component number three: the crunchy stuff!  Melt butter in a skillet crumble in ramen noodles saute until beginning to  brown add in sliced almonds, and sesame seeds continue to brown another 5 minutes or so.  Remove from heat and let cool.
If I am taking this salad somewhere I bring the three components separately and mix just before serving.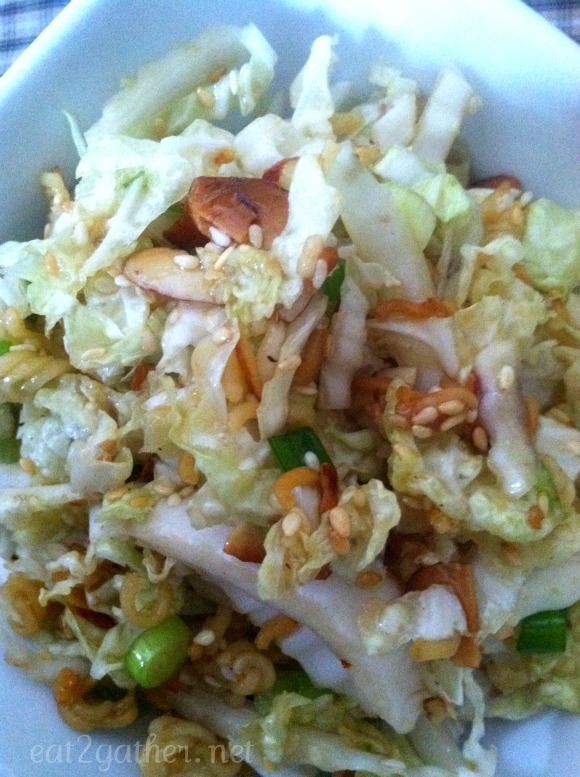 Asian Napa Cabbage Salad pairs perfectly with any grilled meat. It's also a  great addition to your next potluck party.  Fresh, crunchy, and full of flavor this salad will surely become a favorite at your table too!
[print_this]
Asian Napa Cabbage Salad
serves 8
1 large head of Napa Cabbage, cleaned and chopped/shredded into thin strips
1 bunch of Green Onions, sliced thin
2 packages Ramen Noodles, any flavor discard flavor packet
1 cup sliced Almonds
1/2 cup Sesame Seeds
6 tablespoons Butter
3/4 cup Vegetable Oil
2 tablespoons Sesame Oil
1/4 cup Soy Sauce
1/4 cup Rice Wine Vinegar
3/4 cup Sugar
1/2 teaspoon fresh cracked Pepper, more if you prefer
-Clean cabbage by rinsing it with cold water and letting drain in colander. Shred or cut cabbage in to thin strips. Add shredded cabbage and chopped onions to large salad bowl.
-In skillet melt butter, add crushed ramen noodles to the pan. Move around with spatula until noodles begin toast, add almonds, saute for a minute longer, then add sesame seeds, continue to saute until sesame seeds begin to toast. Remove from heat and let cool.
-Whisk together oil, soy sauce, rice wine vinegar, sugar, and pepper until sugar has dissolved.
-Just before serving add ramen mixture to cabbage, pour dressing onto salad and toss. Serve immediately.
Note: If you are going to bring this to a potluck or picnic, I suggest, you transport the three components separately and toss on the spot just before everyone eats.
Enjoy!
[/print_this]