Oh my where do the time go?  So here's what I've been cooking from The Pioneer Womans second cook book, Food from my Frontier.  If you are new and wondering what the heck I'm talking about right now then you might want to catch up here first.  And yes if you are wondering if I'm wearing my sssta-retchy pants right now…yes!…black ones, is there any other color?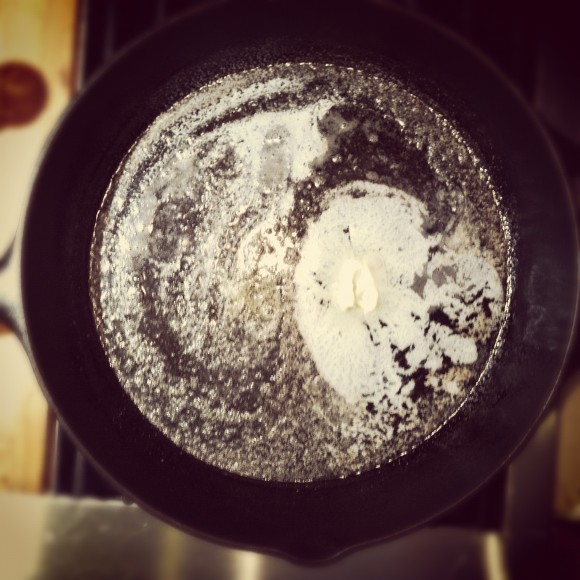 Cooking through Ree's frontier means butter….more butter, and did I mention that cooking through The Pioneer Woman Cooks involves butter?  A girl after my heart.  Fire up the stove and lets melt some bud-ah, in our stretchee punts.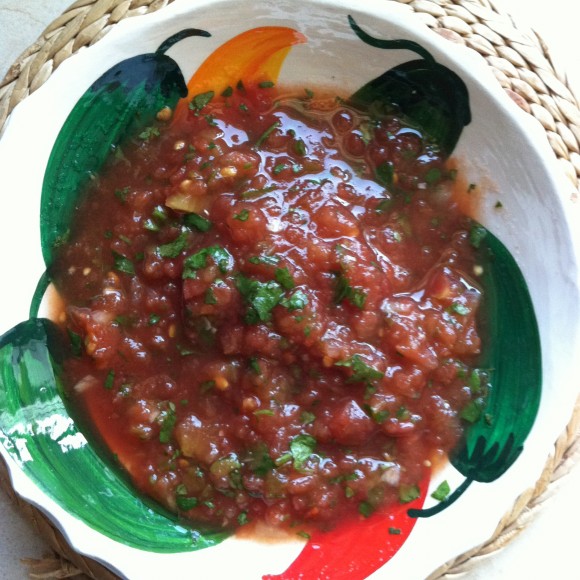 If for no other reason than to have the recipe for Restaurant Style Salsa, you must have this cookbook!  I have made this so many times, I don't even look at the recipe any more.  It's perfect and lovely, and I could drink it….but we'll get to the drink at the end.
Restaurant Style Salsa two thumbs up.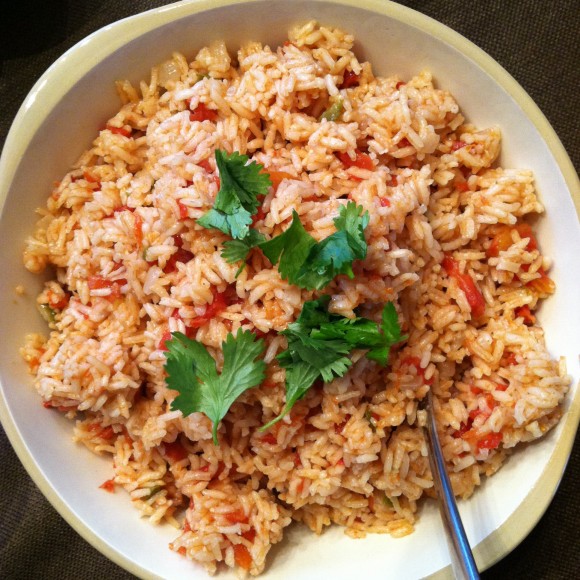 I grew up on Spanish Rice…at least that's what my Mom called it.  Ree calls hers Mexican Rice.  I have to say I have tried this recipe two other times, and it turned out gloppy and sticky, but this time it turned out perfect. My family loved it!
Mexican Rice two stubby digits up.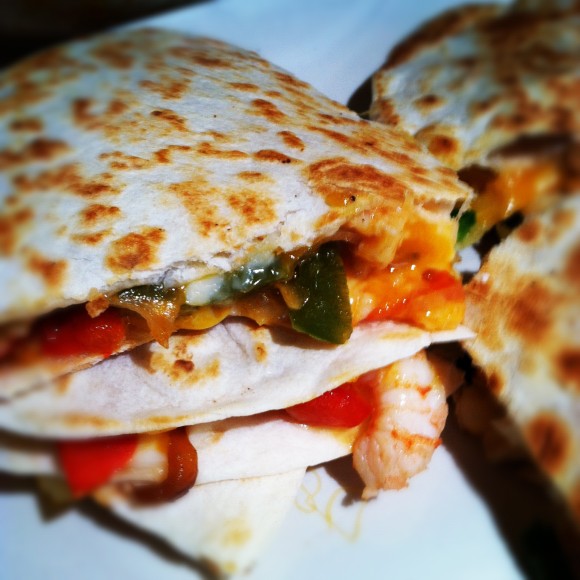 Drool…slurp….Quesadillas de Camarones are perfection, for me any way.  I loved everything about this recipe.  It was easy, and it looks so purdy.  But my kiddos had a complaint about it, I'll tell you about that in a minute.  For now let us just savor the yumminess of this quesadilla…full of spicy shrimp, peppers, and cheese.  Come to momma.
Quesadillas De Camarones received thumbs up from me and Kenny, but me kiddos had some complaints.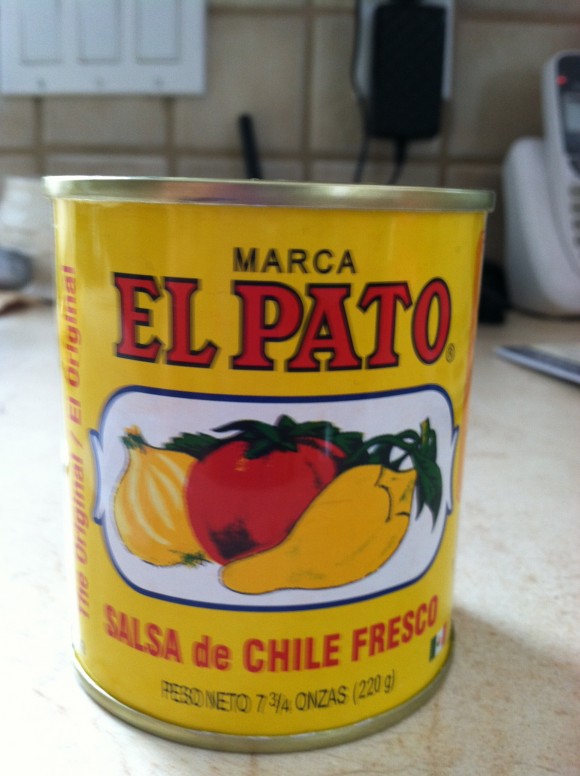 A new ingredient.  I love this stuff.  I was worried that my grocery store would not have it.  But low and behold they carry it.  The late Fred Meijer, may he rest in peace, was saying "oh ye of little faith".  It just adds that extra hutz-pah to any Mexican dish.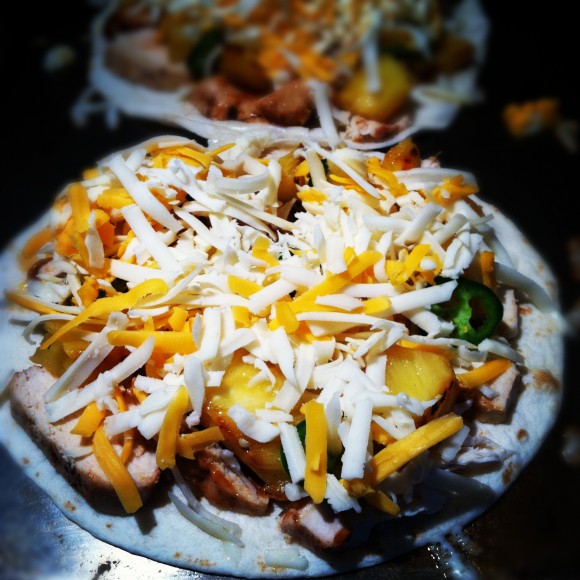 This would be the Barbecue Chicken And Pineapple Quesadilla.  I felt like Dora the Explorer while eating this…I kept repeating Yum Yum Yum.  I made the Quesadillas de Camarones the same night and had my in-laws over for a little QuesadillAH par-TAY.
The adults in the room gave Barbecue Chicken and Pineapple Quesadillas two thumbs up, kiddos said, "too much stuff".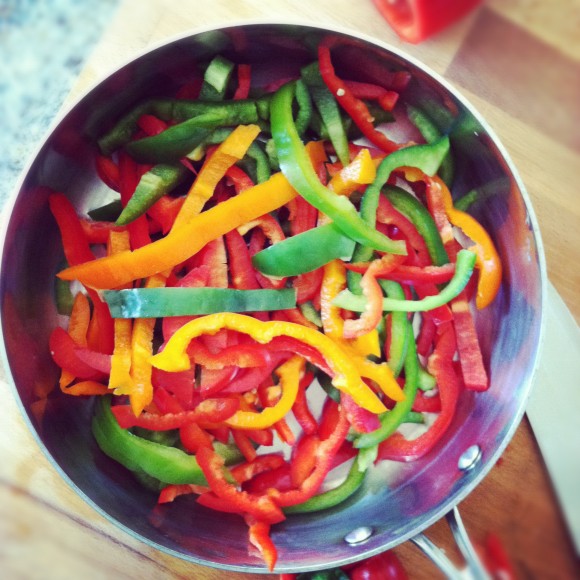 So here's the SCOOP: my kiddos were super excited when I started Cooking through Ree's Frontier, but now 26 recipes into it they are whining….just like before.  The names haven't started yet, but oh Ree I'm sorry to say I'm afeeerd it's comin' girlfrand.   The peppers are what started it.  So far many of the recipes I have picked have included peppers.  Apparently my family is not fans of  "the peppah".  So there you have it!  I had one reader ask, "how do you handle it when there's a recipe you know your family won't eat?".  Answer to that is I have made a smaller portion, but mostly I say TOUGH TOOKIES!  Eat whats on the table and stop your whinin'.   But I did take a little break from cooking from The Pioneer Woman cooks, and I think when I start back up we will steer clear of recipes including peppers….at least for now.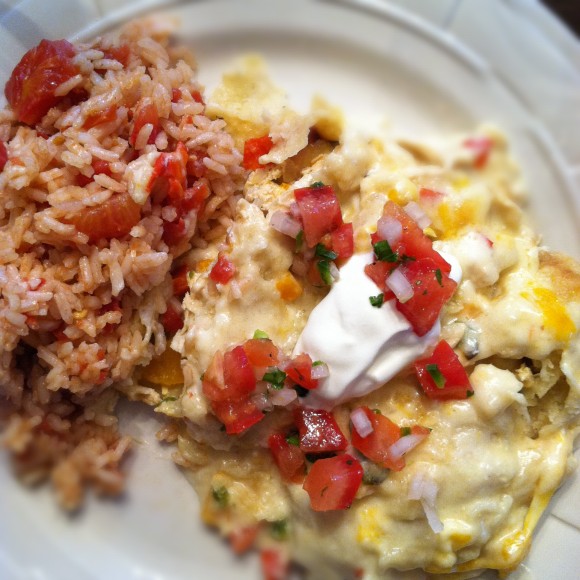 White Chicken Enchiladas, although they contained peppers they were a hit.  There where no leftovers this night.  Can I get an Amen!  I did see a couple peppers picked out off to the side of a few plates….oh well!  Whatcha gonna do?
White Chicken Enchiladas received two thumbs way up.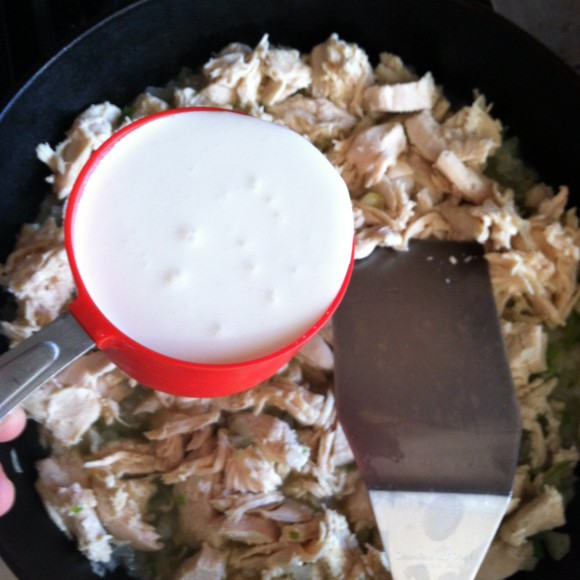 I will just add that there ain't no way this recipe is making it into anyones diet plan.  HOLY CRAP 1 1/2 cups of heavy cream, plus sour cream, and cheese, lots and lots of cheese.  NO wonder these enchiladas are so good!   2words…stretchy pants.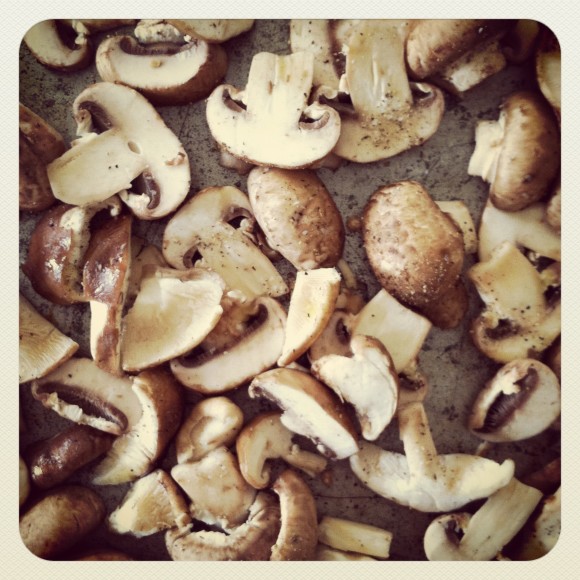 Mushrooms how I love thee let me count the ways……
Unfortunately my family does not feel the same way.  When I first met my husband he wouldn't let a mushroom anywhere near his precious lips.  I have reformed the man….in more ways than I dare say in this post, but let's just say he is a fungi eater now….I did not say fungi lover…just fungi eater.   But for that I am thankful.  So although I was super excited about this next recipe, I was afraid once again that I was going to be met with a heap-O-complaining.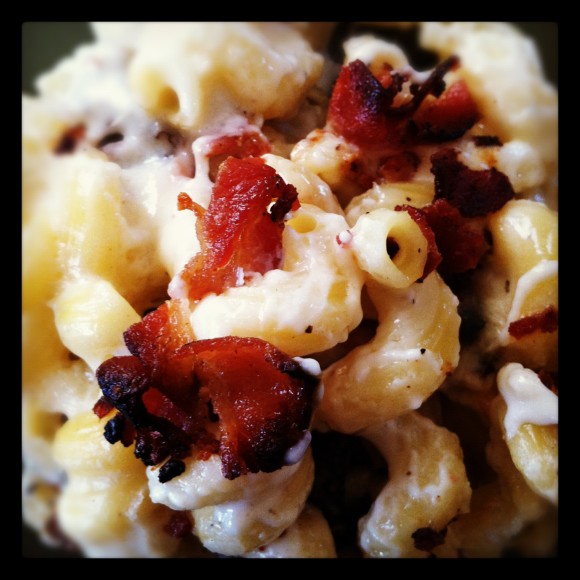 Fancy Mac and Cheese
The clouds cleared and the Heavens rejoiced…..this Mac and Cheese is to be revered.  Nuff said polka dot period. Well maybe I do just need to clarify that I think the bacon is what won my family over….and the fact that I only put mushrooms on one side of the dish….I know I talk a tough talk, but I am a softy. Shush now!
Fancy Mac and Cheese two short phalanges up.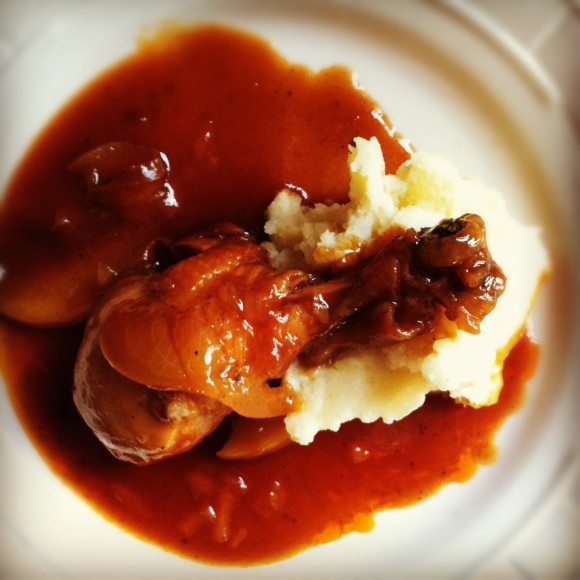 Peach Whiskey Chicken this recipe received rave reviews by one and all!  It is so easy.  Ree is right, this is "a fabulous throw-together meal" for any night of the week or  for dinner guest.  It's easy and elegant and super delicious.  Very impressive.  Only complaint was 12 chicken legs were not enough for my piggly wigglies!  Well, and the fact that it emptied my bottle of Jim Beam…sheesh make me look like a drunkard.
Peach Whiskey Chicken two thumbs up.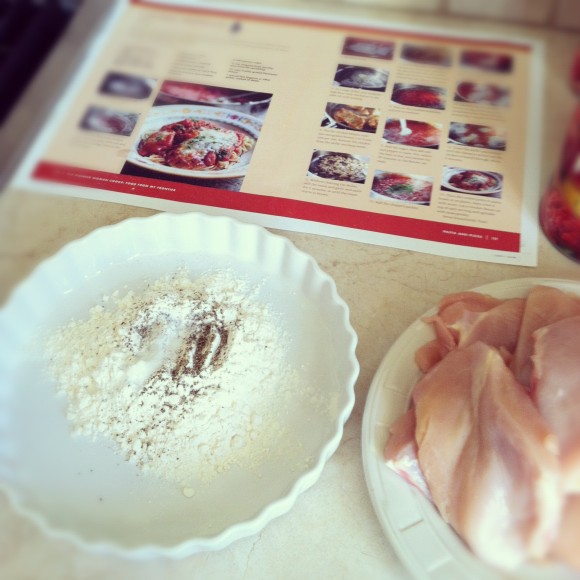 Prepping for Chicken Parmesan.
I once dated a guy, who's mom mispronounced parmesan.  Well, that actually is being kind.  She massacred the word.  And to this day I cannot say it, eat it, or look at it with out hearing that woman's voice saying par-meee-zi-anne.  Ugh…it's weird how some things stick with you.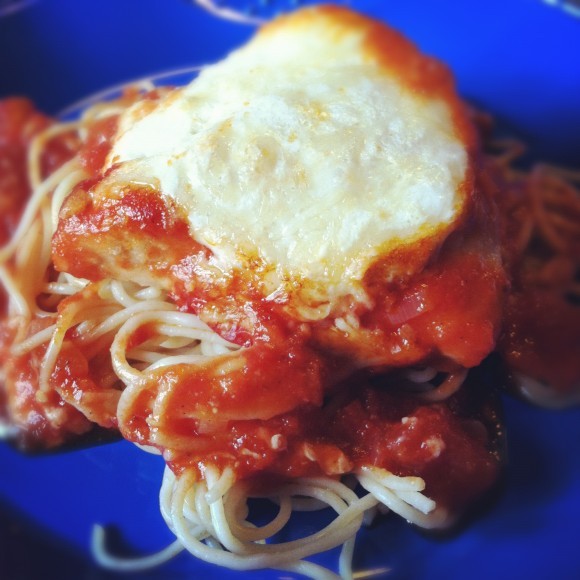 Oh it tis a happy day when you put this on the table.  Chicken Parmesan is dinner perfection.  My Kenny loved this, just like MM.  Hey Ree not only do you and I have loads in common, but our honey buns both love Chicken Parmesan!
Chicken Parmesan was a two thumbs up from my sweet cheeks, and the rest followed suit with a MMmmm-yum
Corn Chowder 
I was the only one that loved this chowder.  I leee-uvd it.  So as the saying goes, "more for me".  My family ended up eating cereal.  They all took the courtesy taste, and then headed for the pantry.  Ken turned up is nose, when he rolled in at midnight and said, "nahw I'll have cereal, that'll give me gas.".  Since when is my husband worried about gas?  What-ev.  More for me.  Ree's Corn Chowder is  sweet and spicy and creamy.
Two thumbs way up from Moi, but sorry to say this was a thumbs down from the fam-bah-lee.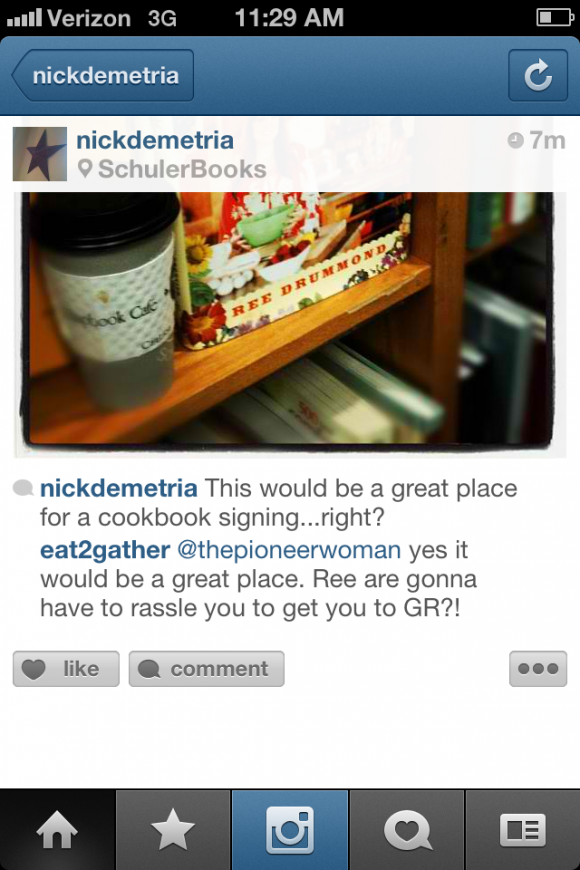 So now, before the finale, I just have to prod and poke you a little Ree my Dear.  Are you coming to West Michigan or what?  Because when you do, and you notice I say when you do…I really hope you do your book signing at Schuler Books & Music in Grand Rapids. It's lovely, and quaint, but large enough to hold the crowds you will surely attract, and they have a yummy little cafe.  So Big D took this picture and put it on Instagram and I Twittered you about it. I know, I know,  you said you've been a bad twitter reader, I'm sure you missed it.  But here it is…your invitation (again) to come to G.R..  We will show you a good time girlfriend.  I promise you that!  Just give me a heads up please, so I don't go making plans to be out of town or something crazy.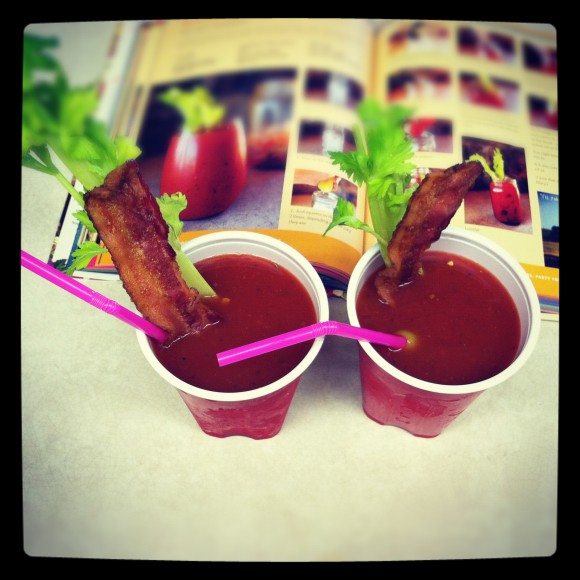 Bloody Mary's
Now let it be known…. that I never said that I would not, on occasion, veer from the written recipe.  And in this case I knew that P-dub would be all about my veering off on to Bacon Boulevard.   Now as you might suspect I did not feed these to my kiddos for dinner, but I did serve one up to my gal Heather poolside one morning for breakfast in Florida.  WOW and OOO-DOGGIE, these were good, I did dump a little pickle juice in there too….eeeee ya, couldn't help myself.
Ree's Bloody Marys received two thumbs, as well as ten toes up.  We were setting in beach chairs so of course our toes were up…pointing straight at the sun.
Remember if you use the Instagram App you can follow me at Eat2gather and get a preview of what I'm cooking, or follow me on Twitter, because I always post my Instagram #cookingthrureesfrontier photos to Twitter too!  Or if you don't Tweet and you don't use Instagram, well then surely you have a Facebook, where you can follow this cooking adventure.  Well, if you don't do any of those, but you are reading this you must have a computer so then you can surely subscribe to my RSS feed, or subscribe via Email up yonder in the sidebar there under my Welcome.
COME ON NOW be a follower!  There's alot more to come!
Luvya,
Sheila