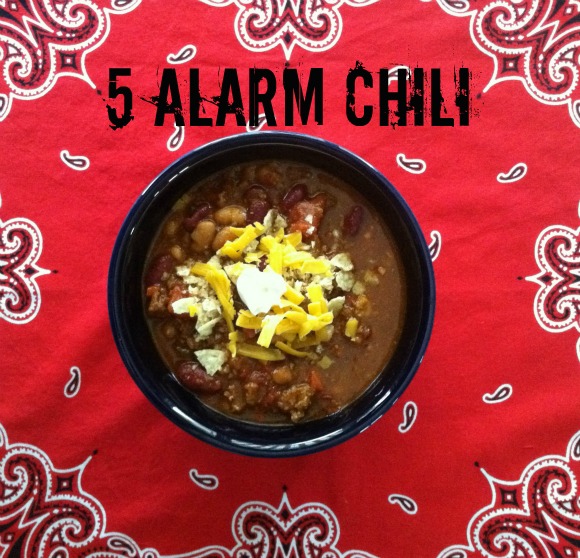 I cannot tell a lie spicy, rich, tomatoey chili with lots of depth and a list of ingredients a mile long is my favorite sort of chili.  Bring it on!  I'm a sucker for a chili recipe like this!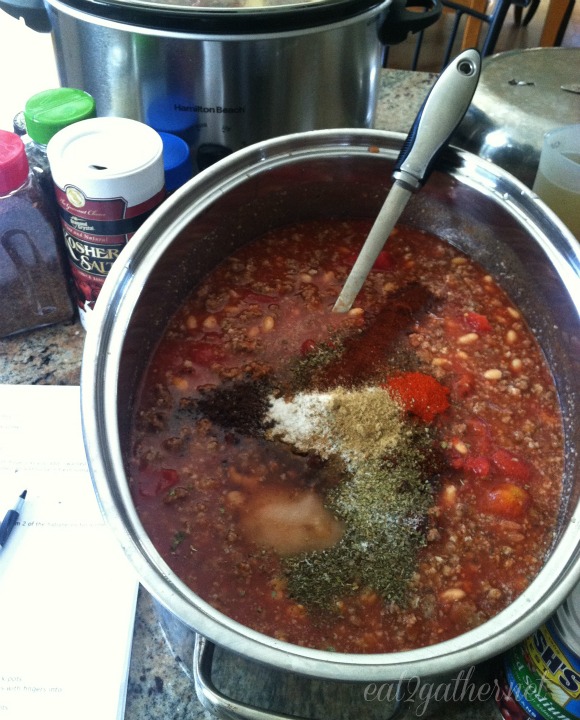 Don't let the list of ingredients for this recipe scare you.  Honestly once you get the meat browned and the veggies sautéed all you need to do is throw the rest of the ingredients in and let her cook and cook and cook and cook….this is not a quick throw it together and eat it in an hour chili, this chili is actually best made the day before or early in the morning the longer it cooks the better it gets!  This recipe did not win the prestigious Chili Cook-Off award at my church, but it got my vote!  So I just had to include it in Chili Cook-Off week!
Thanks to Stacy for sharing her 5 Alarm Chili recipe.
I do have to say that because I could not find habanero peppers in the grocery store I used a can of chipotle peppers in adobe sauce instead.  Feel free to kick the heat up in this recipe….if you dare!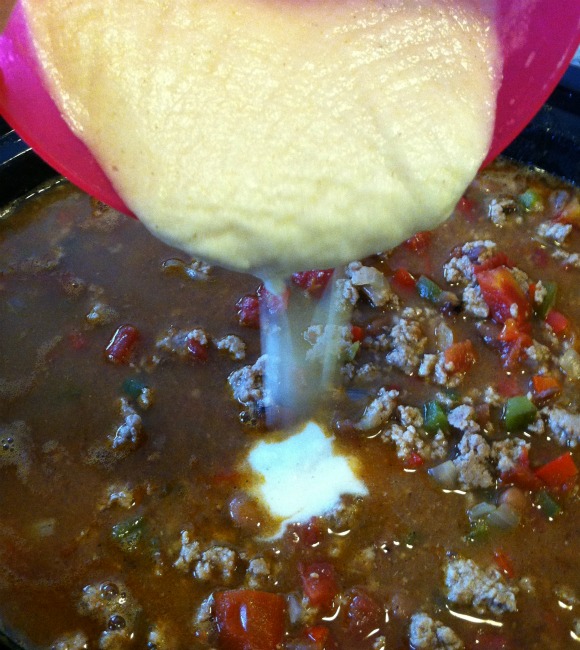 Masa is one of my favorite chili recipe tricks.  Mix a few tablespoons of this corn flour with cold water and whisk it in near the end of cooking your chili.  It will give your chili a rich thick depth that is out of this world!   Psssst ….thati's it!  I just gave you  my number one chili secret,  Masa.  That's all I gots people!
What's the secret ingredient in your chili recipe?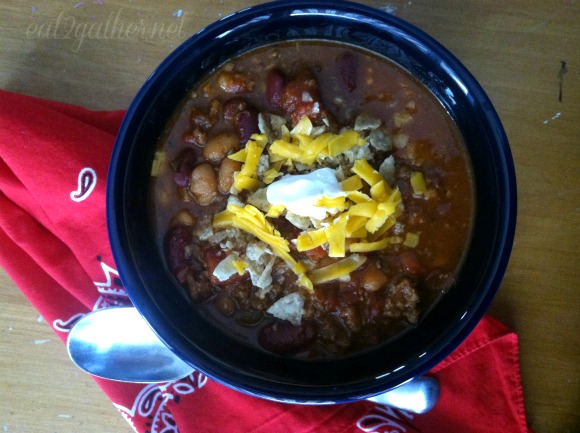 Get out your spoons and DIG IN!  And don't forget to ENTER all the great GIVEAWAYS!!  See details below. 
[print_this]
Stacy's 5 Alarm Chili
serves a crowd
2 pounds Ground Beef
1 pound Italian Sausage
3 15 ounce cans Kidney Beans, drained and rinsed
1 48 ounce jar Great Northern Beans
3 28 ounce cans Stewed Tomatoes
1 32 ounce can V8 Spicy Hot Tomato Juice
1-2 cups Beef Broth
3 tablespoons Olive Oil
3 stalks Celery, chopped
1 Green Pepper, seeded and chopped
1 Red Pepper, seeded and chopped
8 Jalepeno peppers, seeded and chopped
1 6 ounce can Chipotle Peppers in adobo sauce, chopped
4 Beef Bouillon Cubes
3 tablespoons Chili Powder
2 tablespoons Ancho Chili Powder
1 tablespoon dried Oregano
2 teaspoons Cumin
1 teaspoon Dried Basil
1 teaspoon each Salt & Pepper
1 teaspoon Paprika
1 tablespoon Sugar
1 tablespoon White Vinegar
1/4 cup Masa + 1/2 cup Water
1. Brown ground beef and italian sausage, spoon off liquids and grease add meat to slow cooker.
2. In the same pan add olive oil and cook the peppers, celery, and garlic, until soft, about 10 minutes.
3. Add vegetables to slow cooker with the meat, add the rest of the ingredients to the slow cooker except the Masa and Water.
4. Let cook on Hi for 4 hours, taste and adjust add salt or pepper or more seasonings. Stir in 1/4 cup Masa flour with cold water and whisk in to the chili, allow to cook another half hour before serving. After chili has cooked for 4 hours at high you can turn down heat to low or keep warm setting on your slow cooker.
Note: You will need a 7 quart slow cooker for this recipe. You can also make in a large roasting pan and bake in your oven on 300 for 6 hours.
[/print_this]
Enter to win: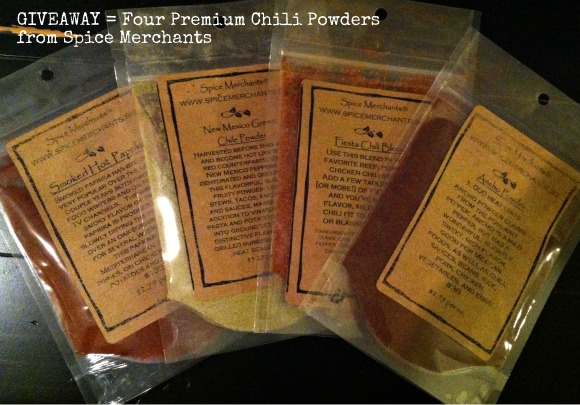 The OFFICIAL Chili Cook-Off prize rules (are easy):
Answer the question from the body of this post in the comments below for a chance to win the assortment of Chili Powders.
One comment per person please!
**It's nice to share 😉 So if you do I'll give you one bonus entry.  Just copy paste the url into the comments so I can see that you shared. Facebook, Twitter, Pinterest are all acceptable forms of sharing…also word of mouth but I'm not sure how you would copy paste that. LOL 😉
This contest will close Friday, November 22, 2013 at midnight EST.  This giveaway is open to US Residents 18 years or older the winner will be selected by random.org and will be notified via email.
Don't forget if you haven't already to enter these other great GIVEAWAYS:
Chili Cook-Off Grand Prize ~ Set & Forget Hamilton Beach Slow Cooker, official Eat2gather chili cook-off apron, and a ladle from OXO.
Chance to win 1 of 5 $10 Wendy's gift cards.
Much love, Sheila