I am very honored to have my good friend Rachel here today to help us with the ever present Dinner Dilemma!  I am the first to admit I don't have all the answers when it comes to how to make dinner happen on a nightly basis around our home, thankfully I know some people who can help.
Let me introduce you to…..
 I asked Rachel a few questions to help you get to know her better.
Q1. Tell us a little bit about your family and what you do…  Hi! I'm Rachel from Rachel Cooks. I'm a mom of two kids who keep me busier than I ever imagined possible. My daughter (E) is 3 and my son (N) is almost one. It's so weird how kids turn one 2 weeks after they were born. Right? Or at least that is what it feels like. I'm also a physical therapist but when my daughter was born, my husband and I decided I would stay home with her. That's when Rachel Cooks was born as well. I love filling my website with stories of food, family and fun. I create accessible and delicious food that the whole family will love. And it won't leave you slaving away in the kitchen for hours and hours on end.
Q1 What size is your family and who are you cooking for?  My husband, Ben, eats nearly everything I put on the table in front of him. He's extremely supportive and kind when it comes to new food but the man would be perfectly happy eating tuna noodle casserole and chocolate chip cookies every day so it's a balance of old favorites and new things. My three-year-old, E is a typical toddler. Loves mac & cheese and pizza. But she also will grab kale out of the sink while I'm washing it and eat it raw. She's a surprise every second of the day. My little man, N is just venturing into finger foods. He has 8 teeth and I think he's going to be pickier than my daughter but it is hard to tell at this point.  Q3 Rachel what is the biggest roadblock to your getting dinner on the table, and do you have a certain night that is harder than others for family dinner time?  My biggest roadblock to getting dinner on the table is trying to keep the kids occupied while I prepare dinner. Luckily my husband gets home at a decent time so he's usually there to help but not always. I've usually got two little ones at my feet so I'm trying to keep from stepping on someone, keep little man from getting into the cupboards, and keep my daughter from whining. It's pretty much a circus. Meal planning is something I am not good at, I fly by the seat of my pants and make daily trips to the grocery store.  I really need to become more efficient.  I cannot wait to learn from Rachel….Oh and of course she is sharing a few of her incredibly scrumptious recipes!  
I'm so happy to be here as part of Sheila's dinner dilemma series. I've been fortunate to spend some time with Sheila and I'm quite sure she's a super mom, so I'm not sure what I'm doing here, but hopefully I can share some tidbits about what I do to make my life easier and get dinner on the table for my family. I have 4 tips to make it happen.
1) Meal Plan. I know this strikes fear into the heart of some people, but it doesn't have to be scary. My philosophy with meal planning is not at all strict. We try to go out only once a week (key word: try!), so I try (again, TRY) to plan 6 meals. Usually at least 1-2 of those ends up being leftovers. Which I know might not be the case for everyone. Once my little man starts eating more table food, I'm sure we won't have as many leftovers. Also, lately, I've been sneaking in one vegetarian meal a week. Sneaking is not the right word. We actually had a conversation about the health and financial benefits of doing one vegetarian meal a week and I won my meat-loving husband over.  It depends on what the sales look like at my local grocery store, but here is what a typical week might look like:
Sun: Tacos
Mon: Taco leftovers — taco "lasagna"
Tues: Chicken Barley soup with kale & parsnips
Weds: Leftover Soup
Thurs: New recipe for the blog
Friday: Homemade Pizza
Sat: Carry-out
Having a plan helps me to avoid freaking out and getting overwhelmed and opting for carry-out. However, by the end of the week, there are a lot of lines and scribbles. Things move around and shift a lot based on plans and how I'm feeling — I might not be in the mood to cook/eat what I had planned for that day so I save it for another day.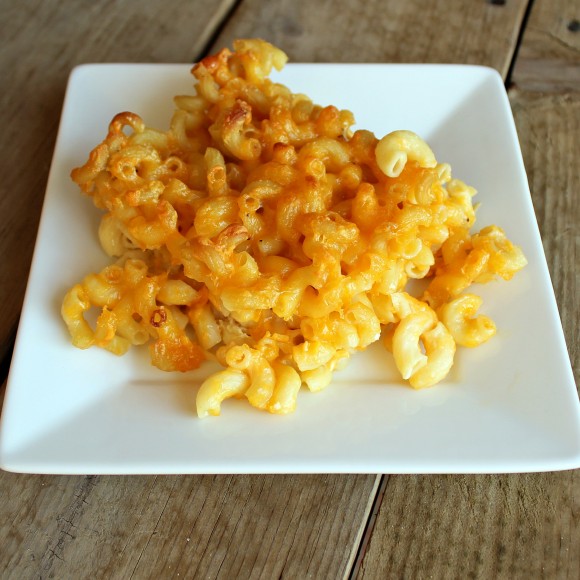 If I bought meat, I scribble down the "use by" date so that if I do get flexible with my meals, I can make sure I use things in time and do not waste them.
2) Keep frequently used items well stocked. Here are some examples:
Freezer: Cooked quinoa, refried beans, cooked and diced chicken breasts, peas, blueberries, broccoli, spinach, package of ground turkey.
Fridge: Apples, celery, onions, spinach, other greens, carrots, bacon (sometimes), butter, eggs, milk, yogurt, turkey deli meat, flatbread, cheese. Lots of cheese!
Pantry: Pasta, pasta sauce, taco seasoning, bread, canned tomatoes, more quinoa, barley, chicken stock, tuna, canned beans.
I'm sure I'm missing some, but if I have these items stocked, it's a pretty good bet that I can throw a well-balanced meal together in a pinch.
3) Prep ahead. This could be washing a big bunch of kale as soon as you get home from the store. Or peeling a bunch of carrots and throwing them in a zip-top bag (one of my favorite things to get out of the way). It could also mean chopping up some peppers and onions during nap time or before you go to bed at night so that they are ready when the hectic dinner hour rolls around.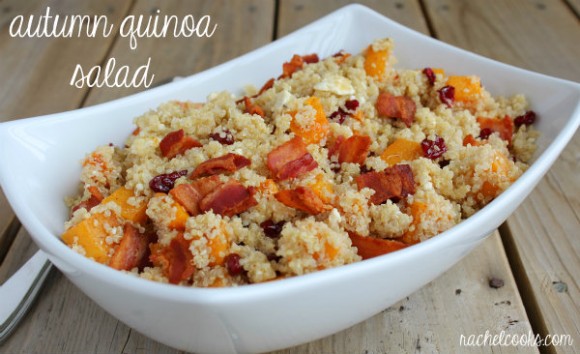 4) Have a few go-to meals that you can fall back on when you don't feel like cooking what you had planned to cook. This is where a stocked pantry comes in handy. I try to always have the things I need to make homemade pizza. Another favorite is the easiest ever baked mac & cheese. Quinoa kept in the freezer can be turned into a quick meal with some roasted squash, and crispy bacon — like this Autumn Quinoa. And if all else fails, there is always a grilled cheese sandwich. Or popcorn. ___________________________________________________________________________________________________________ There you have it 4 very doable tips to making dinner time happen in your home, and banishing that pesky dinner dilemma for good!  Thank you so much Rachel for taking the top to pop over and share with us. Please make sure to visit Rachel's blog Rachel Cooks, and don't forget to like/follow her Facebook, Twitter, and Pinterest Boards so you can stay up to date on her many great recipes. If you are a blogger and would like to be featured in our Eat2gather Dinner Dilemma Series please contact me, I would love love love to have you! Dare to do Dinner! XOXO  Sheila