31 days of Meals 4 Sharing:: Organizing a Meal Schedule
Organizing a meal schedule for someone can seem overwhelming.   However, with todays technology planning a meal schedule can be done in literally the time it takes to watch one episode of Spongebob or The Middle!  Thirty minutes is such a small amount of time when you think of what enormous burden you can lift from the one in need.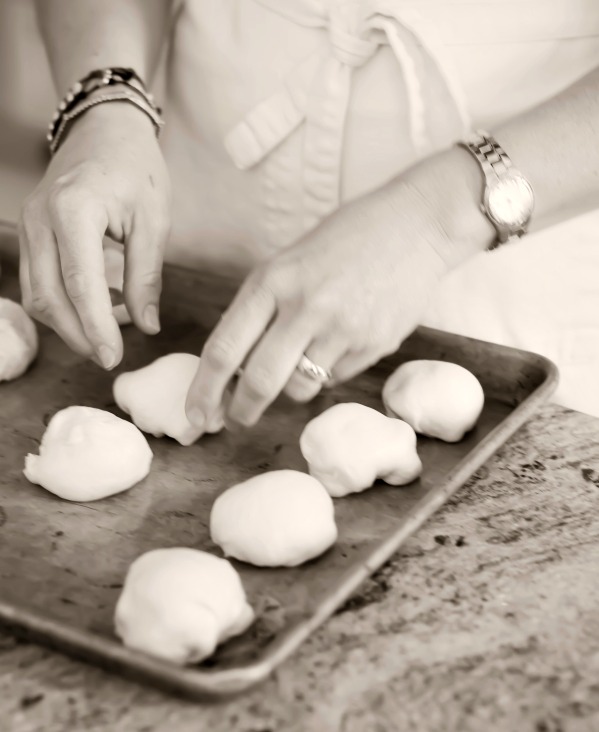 In the olden days,  when my mom was a member of the Womens Guild at our church, you were on a "list".  The Meal Ministry List.  If you wanted to make your self available to bring meals to others you would call the women in charge of "the list" and she would put you in the rotation.  Then you would get a call when your name came to the top of the list to bring a meal to whoever was in need in the community.  This was also in the day of party lines.  AWE come on don't tell me you don't know what a party line is!  Google it.  We actually had three women on "the list" on our party line.  One ringy dingy and you could kill four birds with one stone.  With technology the way it is today the day of "the list" is nearly a thing of the past.
Who should organize a meal schedule? Anyone can do it!  Usually it is someone fairly close to the person in need.  However, I would warn against being the meal organizer if you are too close to the situation.  If you are already assisting the family/person in other ways, maybe you should delegate someone else to take on the task.  Maybe someone that's not doing anything, for the family, at the moment, but has voiced that they want to help in some way.
I would also take in to consideration the recipients other social circles.  If you are from their small group and you have decided to organize meals, is there someone doing the same thing from their neighborhood, or a family member,  good friends, coworkers.  Make sure you ask them this question, it's something that they might not put together if they are in a stressful situation.  If there are others organizing meals, well then GREAT you can all get on board together.  "Many hands make light work."
Why should you organize a meal schedule? Day #3's post hopefully answered this question.
Where to start? First things first, talk to those in need and find out their specific needs.
Time period: What length of time is going to be the most helpful for there specific situation?  Don't question their request if it seems too lengthy….however I would question it if it seems too short.  They maybe feeling like they do not want to burden anyone.  However if they are stubborn about only wanting 5 meals after having triplets, then grant them their wishes and when the 5 meals have come to and end,  call and ask if they would like more meals to be brought in.  Chances are they will realize their need and take you up on it.  Most of the time  they are not going to know what they need, and neither are you.  Be flexible!
How long is too long, how short is too short.  I would say for any situation at least five meals should be brought in.  I have been on meal schedules that have lasted over a year.  If the need is still there then so be it, why ripped the rug out from under someone?  Obviously the longer the time period the more people that need to be involved.
Frequency: My experience is that everyday is too much.  Quite often there are left overs, or maybe for one reason or another they had to delay eating a meal until the next day.  So every other day or even every third day works well.  However, if the recipient wishes to have meals brought in say Monday through Friday and take the weekends off.  Each case is unique.  Again I say be flexible.
What to bring: There are a few key questions you want to ask the receiver of the meals.
~Are there any allergies? peanuts, gluten, soy, eggs, dairy, cinnamon
~Are there any picky eaters?  What are their favorites?  You can make a list of their faves and make sure all the volunteers get it.  This is very helpful to those that get anxious about what they should bring.   Even though your family may have a well developed palette that does not mean that every family does.  Remember the meal is a gift, it's meant to comfort, it's not time to try and change someones eating habits. This is one I have had to watch because my family eats just about anything, so sometimes I forget.
I will definitely talk more in detail about recipes and amounts throughout this series.  I would say as a general rule play it safe when bringing someone a meal, unless you know them really well.  Don't bring seafood, or anything really spicy.
Format for organizing a meal schedule?
If you have taken into consideration all of the above you are well on your way to organizing a meal schedule.  Now you just need to decide what format you want to use.  Email, Phone, Facebook, Volunteer Website.
Email: I think is best used when there is only one social circle involved, the length of time that meals are needed is under four weeks, and if everyone is good about checking their email.  If not everyone is good about checking email,  then you may need to use a combo phone/email method.
Phone: I know this choice may seem archaic, but if it works for your group of volunteers well then go for it!   I would say putting a list together by phone should be used for a meal schedule that is on the shorter side.
Facebook: Think about the people that will be bringing meals, do they all use Facebook?  Maybe they do, but not regularly.   If this is the case I would not even consider using Facebook to organize meals.  You don't want someone counting on their much anticipated meal from people who haven't checked their Facebook messages in 2 weeks!
Volunteer Websites: I think volunteer websites are the next best thing since sliced bread! NO lie!  I love that I can get on and sign up, for a time that works best for my schedule.  The volunteer websites make it easy for all involved.  Plus they send out reminder  emails to the volunteers prior to their commitment.  Its genius!   I don't know about you but I need reminders!
Here are three websites that I have used, or have been recommended to me:

Volunteer Spot I have used this one the most.  It is super quick and easy to use.  I even volunteer for the concession stand for my sons soccer team, and for teacher luncheons at school through this website.
Take them a Meal I have never used this site, but after looking it over, I loved it.  I would definitely give this site a try the next time I need to organize a long term meal schedule. One great feature of this website is people can type in what they are bringing, so others can see what meals the family has recieved or what they will be eating right before you bring a meal.  Helps with the pesky duplicate problem. This website came to be out of a necessity in a community, and now people all over the country are using it!  Gives me goosebumps!


Lotsa Helping Hands I have used this website also.  It was super easy to sign on and volunteer.  If I remember correctly this site also had the "no duplicates" feature.  Lotsa Helping Hands main purpose is to surround the person in need with help in any area of their life that they may need it.  The founders have a great mission statement.  Awesome resource!
Confession: I have used two of these sites, but personally have never been a coordinator on any of them.  I did however talk to another mom from school that has used the first two.  She said it was crazy easy….impossibly easy!  She said in no time at all she has set up volunteer schedules for any thing from school luncheons to long term meal ministry.
It may all seem overwhelming. You may be thinking I have never brought someone a meal let alone organize a whole dad-blames shhhheduule!  Listen to your heart. If someone you know has had hard times hit them because of sickness or injury, loss of job, loss of a loved one, or maybe they are on bed rest because of a high risk pregnancy and you feel the urge to help them in some way, DON'T HOLD BACK!  Do do do do do!  Hesitation and fear deprive us of mountains of blessings for others and ourselves!
I pray that this post was helpful.  If you have any questions please shoot me an email or better yet leave me a comment.
If you have organized a meal schedule, what advise to you have for others?
I would LUV to hear from you!
Hey remember if you would like to post a 31 days of Meals for Sharing blog button on your blog let me know I would love get you one!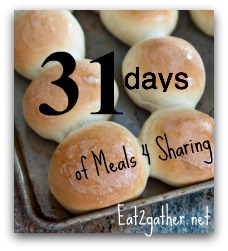 Much Luv,
Sheila